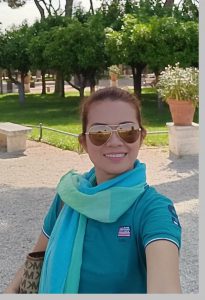 Hello there!
If we haven't met yet, my name is Che and I am the founder of this website.
I am glad that you found this page as I want this to be your starting point for our journey together towards your financial freedom through E-business.
Regardless of your online marketing experience, it's important to have a place where you can always come home to when you need help or some sort of guidance. Think of this page as your hub to direct you where you need to go.
A Little About Me
I started my online marketing journey in 2009 and I failed many times before I succeed as an entrepreneur.
Today, I love every opportunity to help hard-working people (just like you) with E-business and achieve financial freedom goals without going through all the same mistakes and failures I made in the past years.
I am a registered nurse (RN), investor and former accountant too ( Read more about me here). But being an entrepreneur has been my personal secret passion for the past many years. Since I am not a fan of public speaking, E-business has given me all the chances to help a lot of good people with a genuine dream to succeed – that's why this website is made for YOU. I will become your personal mentor/coach when you decided to pursue your dream through passive income in E-business.  



Start your profitable online business with the planning stage.  5 sets of questions you need to ask yourself before you start with online business. A well-designed plan lays out a vision of growth and the steps needed to get there.

Click Here.

Join the most helpful community in the world – Wealthy Affiliate.
Getting help when you need
it is the most difficult aspect of building a business online. You can absolutely expect to be getting help from a myriad of people with all kinds of expertise.
We are a community that truly cares
and will be there for you all the way to your success, all day, every day 24/7. We have 1.4 million members from 195 countries. 
Click Here.
Here is a short list of my top recommended tools for you. These tools will help you to build and scale your website, funnel, e-mail marketing, affiliate marketing and online business in general. Most of these tools are the tools of every successful online entrepreneur. Good luck to your you journey to financial freedom through E-business. 

Click Here.