This post may contain affiliate links. For more info visit my disclosure page. 
Have you been scammed before? Report them to the FTC Here.
A lot of people want to earn money online with affiliate marketing. However, they don't know how and where to start properly. So, with this post, I want to clarify a lot of misinformation out there about affiliate marketing, as well as what to do and not to do in order to succeed and don't fall into any pitfall.
So today, I made this simple guide "4 Steps: How To Earn Money With Affiliate Marketing Online, A Beginner's Blueprint" for anyone who seriously want to make money online.
Anybody can become an affiliate marketer. It's actually very easy. But applying the concept of affiliate marketing is not that as easy as most people think. The common misconception is that people expect to earn a lot of money overnight and that's very far from the reality.
I hate to burst your shining moment, but if someone promises you to earn $5000 in just a few hours, then you have to think twice – there is no such thing in affiliate marketing when you just get started.
I have been reviewing and researching so many products online in the make money online industry since 2009 and it's truly shaking to see what's out there that are absolute scams, crap, junk, and soullessly misleading a lot of people.
Therefore, with this simple guide, I could show you the awesome world of affiliate marketing – How is should really be practiced and how exactly you should set it up for the sure success.
​4 Steps: How To Earn Money With Affiliate Marketing Online, A Beginner's Blueprint
Here's the outline of this guide.
Your Life As An Affiliate Marketer.
The 4-Steps To Build A Profitable Affiliate Business.
No Replacement For A Real Training.
YOUR LIFE AS AN AFFILIATE MARKETER
The life of an affiliate marketer is awesome! You can work anywhere, anytime and on your own terms. You are your own boss with an unlimited potential of earnings.
When you become an affiliate marketer, that means you'll become an extended salesforce of different companies, products, and services.
For instance, if you become an affiliate with Amazon associate/affiliate program, this means you can earn money by selling hundreds of thousands of products that are available on Amazon.
How do you do that? You'll get a unique affiliate link that you'll be using to promote any Amazon product and when someone clicks on it to go to Amazon, you'll get a commission as soon as they buy something on Amazon. The coolest part is, you can earn from anything (not only the product you promoted) that they buy on Amazon within a given period of time.
And that's it. That's how affiliate marketing works. Pretty easy, isn't?
Now, the next thing is… how do you get that link in front of people? How will you find the right customer for there products?
The process is actually more exciting. But wait! You don't have to apply to any affiliate program and start promoting affiliate links.
To create a profitable affiliate business, there's structured and proven blueprint to follow. And this is what successful affiliate marketers have proven working for many years.
This blueprint consists of 4-big steps that I'll be walking you through below and if you seriously are on into building this business long term, this is the right path to go.
THE FOUR STEPS TO BUILD A PROFITABLE AFFILIATE BUSINESS
Affiliate Marketing is a huge thing. But I've broken it down into 4 main steps that you can easily follow and it goes like this.
Now, let me go into each of these steps:
Step 1: Pick An Interest
This interest will be the topic that your business is going to be about. We call it a "niche" in a more professional term.
For instance, let say you are good with playing guitar, then guitar can be your niche. I'm sure there are a lot of people who'd love to learn different kinds of playing techniques and would love to buy a quality guitar.
People spend money in this niche. You can target an audience – like beginners or professionals – depending on your own experience and knowledge to share. You can recommend thousands of products from acoustic or electric guitars to different kinds of guitar accessories.
On the other hand, you can view this as your way of helping people to solve a problem. For instance, weight loss is a very popular niche because a lot of people are struggling with this problem, looking for help and willing to spend money on it.
So, your first step here is to choose a topic of your interest that will enable you to HELP other people.
Step 2: Build A Website
You can build your own website in just 2 minutes. That's how easy it is.
Working as an affiliate marketer without a website is nearly an impossible task in our modern time. The great thing is, our modern technology today has made thousands of affiliate marketers' life worth living like a dream.
So, with this business, you'll need to build a website to reach your target market and so people can also find you.
Don't be scared by the term "build a website"! 
Regardless of your age or experience level, building website today is just like opening a Facebook account and editing a Word Document. That's pretty easy, right?
Compared to the process of building a website for 15 years ago, the revolutionary development in our modern technology today has enabled everyone to build a beautiful website without even a knowledge of a single line of code.
In fact, there are platforms available for you to build your website in just a few clicks and your website will be up and running after a couple of minutes. Websites are so common and easy-to-build today.
Take a look at this video and see how to create a website in just under 30 seconds!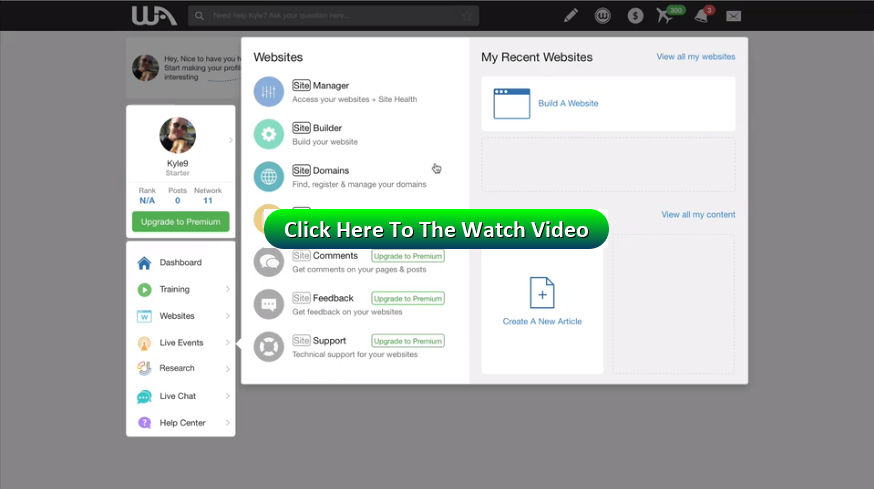 It's really amazing who you too can create a website in just under 30 seconds. However, earning money from a website is in the higher-level task like marketing and sales. These are more difficult because that's where the money is! But don't worry, follow my guidance and rest assured, you'll never go wrong.
For this step, click on this link and Create a FREE Account with Wealthy Affiliate. You'll be offered with 2 FREE websites which you can build within minutes!
If you don't know how to build a website as I have, you should get formal training here, it's the same one I use.
They have taught me how to build mine from the ground up, the very beginning. More of this below.
Step 3: Attracting Visitors
As you build your website, you don't need anything fancy, you just need something that's simple and clean to look at.
The more you build it, the more authoritative your website is going to be. That means the more Google and other search engines will like your site and will rank your website better on their search results.
The more you provide valuable information to your audience, the more search engines recognize this and continue to give you more visitors.
Ultimately, you're building an asset that will be generating its own free organic traffic if you do it right. And that's how you can generate tons of visitors a day without paying for any advertising.
Free Traffic is also known as "Positioning", which means your goal is to become the authority in the niche and literally "Attract" visitors to your website or whatever you are promoting.
This can be done on social media like Facebook or on search engines like Google.
People are also using paid traffic such as Google Ads. However, I'll not recommend this method as a beginner.
In this step, you need to focus on the building your website, generating valuable contents and get free organic traffic.
When writing a valuable content, you'll be using keywords. Keywords are words people typing into search engines. You want to use those same words so that your website could show up on the first page in the search results.
Attracting visitors to your online business and sharpening your keyword research skills are very important here. As it is because visitors are the lifestream of your website.
Learning about search engine optimization (SEO) is the key on how to do it properly, so you can rank high on the search engines results and get tons of visitors.
Have you ever notice, that you most likely click on the first page of results, when you do search on the internet?
So, your main goal is to make your website show up on the first page.
This step is where most bloggers fail and quit. So, if you don't know how to do all this stuff properly, then it's very important to get yourself a real comprehensive training.
Step 4: Earn Revenue
This is the most exciting part, but it doesn't happen overnight, and most people will have no patience for this and quit.
Earning revenue depends on how you do well on step 3 – which is attracting visitors.
Our ultimate goal is not just to make money, but to create a consistent passive income so that we can achieve financial freedom, right?
You'll be able to do that with your website.
Below are the 6 Main Ways which you can use to make money from your site:
1. Affiliate Programs
2. AdSense Ads & Other Advertising Programs
3. Building a List
4. Amazon and eBay Products
5. Relevant Advertisers
6. Create Your Own Product
(Read this guide to discover 17 Ways to Earn Money From a WordPress Website)
You'll be learning all of this stuff as you go along and as you follow the guide on the training.
However, all you need to know at this step is that there are tons of ways to monetize your site. So basically, you can make money just by sharing what your knowledge and your experience with the right audience.
Below is the flowchart that illustrates the whole process: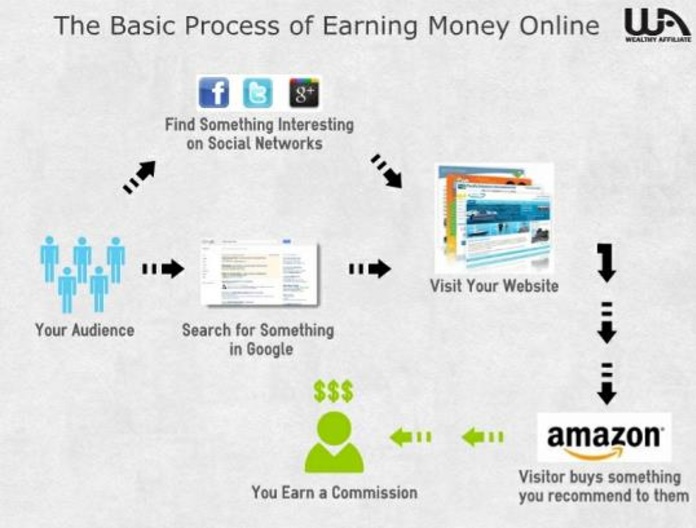 How much you'll make will really depend on so many things, the niche, the products you promote, the type of affiliate programs you choose, your work ethics, your working habits, etc. The key is, treat this as your business and it will give you unlimited earning potentials.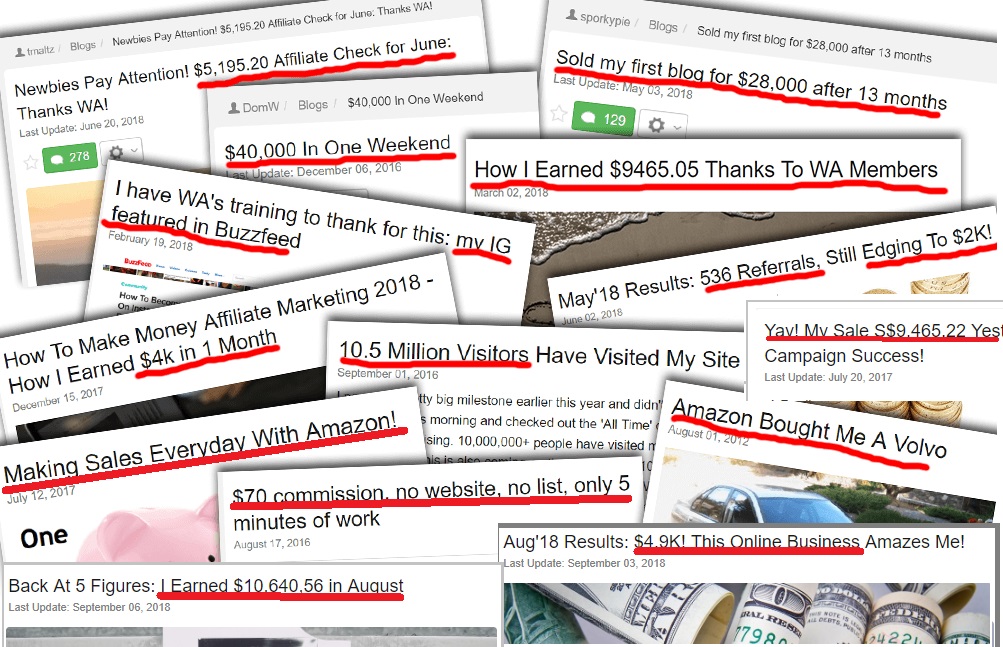 NO REPLACEMENT FOR A REAL TRAINING
I have really seen a lot out there and it really breaks my heart, that there are literally numerous systems and programs that the just junks or outright scams.
I'm not just biased but my years of research in money making online, honestly, there is no better training for this affiliate business than what I have used and succeeded with.
If you want to do this right, don't do it alone. I know you could use the same training to succeed like I did and earn a decent revenue online.
Not only that, I'm offering you a chance to have ME as YOUR Personal Coach!  I'll tell you exactly how when you create your free account because I'll be sending you a bonus package on your profile with my welcome message.
CLICK THIS BUTTON NOW:
The comprehensive training program will take you through all four steps above as discussed and will teach you every step of the way in that blueprint.
The training platform has a really strong foundation in Affiliate Marketing. They have all the resources you need to get started with affiliate marketing properly. What's even better is that they are FREE to get started!
If you seriously want to have your very own passive income generating asset, then start building your future today!
If you have any question or thought regarding the 4 steps in How To Earn Money with Affiliate Marketing Online or anything else, please leave me a comment below. Good luck with your journey to financial freedom.