Welcome to today's topic:
6 Steps In Creating A Personal Budget Towards Your Financial Freedom
6 Steps In Creating A Personal Budget Towards Your Financial Freedom
In order to achieve financial freedom, you need to have a good track of all your expenses, learn to spend less and save more.
It takes only 5 steps to retire in 5 years and become financially independent. The first huge step is creating and managing your personal budget.
We know that financial freedom doesn't come itself automatically. It requires hard work and you really have to strive for it if your account is at $0 savings.
According to a survey, there are 85% of people around the world hate their job, I assume that same or maybe higher are striving to this ultimate goal: financial independence and freedom.
Money isn't really everything. But frankly speaking, we need money to buy time freedom. Freedom from the bondage of hard labor every day called the modern slavery of our time – the 9-5 job. Freedom to do what you're passionate about against bargaining your time for money.
Wait! Don't get me wrong, there's nothing wrong with a 9-5 day job as long as you enjoy it and you love your job. But, if you hate your job, then it's a big problem to wake up every day and force yourself to work those long hours every single day.
So, let's get started in constructing your personal budget.
---
What Is A Budget?
A budget is an estimate of all money flow = money in and money out or simply income and expenses, for example in a year or a month. It's basically a budget plan for your money so you have a better idea about where you spend your money, to whom you owe money and how much.
---
Step 1:
Note Your Net Income
Your net income is your cash inflow so you know how much you earn, let's say in a month. Keep in mind that in calculating your budget, the paycheck amount is the number you need and not your pay rate.
It's easy to overestimate how much you can afford if you base your budget on how much you earn per hour since you also have to pay taxes, social securities, pension, etc.
---
Step 2:
Track Your Expenses
Tracking your expenses is the most important thing in creating a budget. If you don't track and trace all your expenses, you will definitely end up spending more than you can afford with respect to your net income.
It's always a good idea to keep track of and categorize your expenses, so you know where you can make adjustments later on. This you also help to identify what you are spending the most money on and where it might be easiest to cut back.
Start by listing all your expenses dollar by dollar. Then you can start categorizing into 2 major categories: Fixed and Variable Expenses.
The fixed expenses are the expenses that are required for living. And you can't do something about them in the short run. They are like permanent expenses.
The variable expenses are the expenses that are under your control. This means you can make adjustments with them if necessary.
This is how your worksheet should look like:

Fixed Expenses:

Rent or mortgage
Property tax
Strata/condo fee
Utility bills (cable, cell, electricity, water, etc.)
Lease / car loan payment
Vehicle insurance (if paying monthly)
Life / Disability / Extended health (or other) insurance
Bank fees
Debt payments for your debt repayment plan

Variable Expenses:

Property taxes (if paying quarterly or annually)
House insurance (if paying annually)
Vehicle insurance (if paying quarterly or annually)
Clothing & shoes (if you shop once or twice per year)
Health expenses
Vet bills if you have pets
Gifts
Vehicle maintenance
Groceries
Personal care items (drugstore)
Fuel / public transportation costs
Parking
Daycare
Work lunches & snacks
Eating out
Entertainment
Tobacco/alcohol
Lottery
Babysitting
Sports & recreation, other hobbies
Hair care/salon services
Magazines / newspapers / books
Children's lessons and activities
---
Step 3:
Set Your Financial Goal
After listing all your expenses, you will get an idea whether or not you're spending more than your paycheck.
Unfortunately, there are almost 80% of Americans you are living a paycheck to paycheck lifestyle according to one survey. And If you are inside this statistic then you better make a financial goal so you can get out of the financial situation immediately.
In this step, you need to identify your money goal. In this post, I assume that our ultimate goal is to achieve financial freedom as soon as possible.
Maybe you want to retire extremely early or you want to achieve financial independence and retire in five years, or maybe in 10 or 15 years.
Then you need to focus on that goal.

---
Step 4:
Creating a Financial Plan
This is the most exciting part. OR maybe not.
After identifying your financial goal – whether it's the ultimate goal of financial freedom or small goals like getting out from your huge debts, now you need to create a plan on how you can achieve it.
Let's stick to the plan of achieving financial freedom.
Now, the only person who knows your real financial situation is you. Then, you know IF financial freedom is realistic for you to achieve in 5 years, like in the concept of 80:20 ratio what I was talking about in my previous post.
Using this 80:20 ratio is honestly extremely difficult if you don't have a stable income to cover your expenses. Likewise, even if you have a stable income at a minimum wage, if you have huge total FIXED expenses, then you need you a different ratio.
Take a look at your budget worksheet. What is the ration of your net income contra your total expenses? If you read my post the other day, it is saddening to find out the people who live paycheck to paycheck have a less than $800 to cover them before the next paycheck.
So, what I'm trying to say is that you need to be realistic with your plans so that you can achieve your financial goal on the set time.
Related Post:
---
Step 5:
Make Adjustments
You know that if you need to accomplish something big on your personal finances, then you need to do a lot of adjustments in your budget.
So, if you're budget ratio shows at 10:90 after tracking all your expenses, then you know you need to make a lot of adjustments if you want to achieve financial freedom in 5 years.
You can adjust your ratio like 60:40 or anything that can fit your lifestyle. This means that you need to save much more money and you need to spend much lesser.
As I mentioned in my earlier post, I don't follow that extreme minimalist lifestyle of only $650 a month lifestyle. There's nothing wrong with that. But I love giving. I love to give gifts to my family – to my husband and daughters- even without any occasion. I love to do the things I love without thinking so much about money.
So what I did was, I chose the traditional way of increasing sources of income to achieve financial freedom. I worked 3 jobs and had 2 businesses at the same time. I slept very few hours. Then just after 3 years, I became complete financial independence.
Whether you choose to live the minimalist lifestyle or the graveyard work for a couple of years, it doesn't matter – as long as you will achieve financial independence and you never have to worry about running out of money again.
---
Step 6:
Budget Maintenance
Keep tracking your expenses every single month and compare them with the previous months. This way, you can see if you spend the money than your allotted budget.
Most of the banks have their own budget app and you may consider using the one from your own bank. I mean where all your bank accounts are. This easily enables you to import data from your bank statements and categorize them as you wish.
---
Final Thoughts
Financial freedom is great. Reaching financial freedom made me feel that I have to give back. I wanted to help a lot of people to achieve financial freedom and the most affordable way to do it, is through online business.
Online business will give you the freedom to work with something you love and passionate about – It'll never fell like working hard because it's your passion.
Check my number 1 recommendation in building an online business, where you can get started for FREE and the premium membership is only optional. This is also where I started and you can get access and start your journey here.
Today, I love working for my own business from home. Affiliate marketing is a type of business that has made many people a huge fortune while others are just earning around $10,000/month and this is what I'm doing and I love it.
See, how I earned up to $1,174.09 per day doing product reviews here.
There are many reasons why you should use this concept to earn a full-time income from home. And these were my reasons when I started with this business.
I can earn money with any product online
The simplest and easiest concept for online business
Sure success as long as you keep going
Unlimited earning potential
No face-to-face or direct selling
No face-to-face rejection
No networking
No recruitment
No inventory
No administrative work
Very low investment
I can work entirely with my laptop and internet.
I am my own boss
Scam protected
I can earn Passive Income online!
So, if you hate product demonstration or presentation, public speaking and certainly not a fan of recruiting your families and friends just to earn, then this is the best business for you.
However, I know this business is not for everybody and there are some other opportunities rather than affiliate marketing. So, I have created a list of the proven ways to earn money online for you.
Start your affiliate marketing business now.
Earn while learn and build your passive income online.

I'm looking forward to seeing you and guiding you in this awesome community. See you on the inside.
This is the end of my topic today "6 Steps In Creating A Personal Budget Towards Your Financial Freedom". I hope this post will help you to improve your personal finances.
If you have any thought or question, please don't hesitate to leave a comment below. Good luck with your journey to financial freedom online. God bless!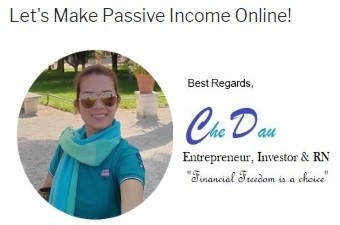 Che's Top Recommended Programs
Wealthy Affiliate University – To learn how making money online really works. Open your FREE account here (No credit card info required)
3-Steps In Making Money with Bitcoins And Other Cryptocurrencies – Instant Money If You Have A little Money To Invest.

Rich Dad Summit

– To learn how to leverage mortgage and retire early- 2-days training for only $1.
If you are completely broke, try these simple gigs online to earn and save money.