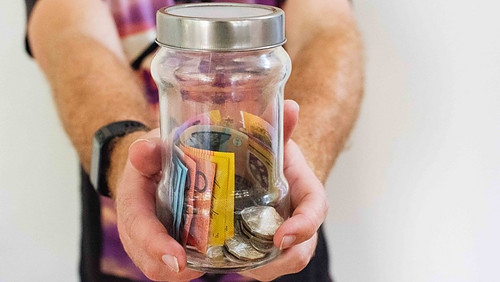 Hello! If you are new here, welcome to my post detailing the ways you can learn how to save 50% or more of your income. I suggest that you read my welcome page.

How Can You Save 50% Of Your Income (Logically Easy)
How Can You Save 50% Of Your Income (Logically Easy)
A lot of experts recommend a savings of around 10-20% of your income in order to secure good retirement years in the future. As a former accountant, I always make sure that my own financial finances are intact.
When I heard about people who save 80-85% of their income and live only with 15-20% is very intriguing in my own personal finances.
I kept on thinking how in all the world I can do that if I love to travel and I have children.
Since I started blogging about personal finances, it has helped me to be more aware of people's different spending habits as well as the different business opportunities around the internet.
Improving personal finances is a life long process and journey.
As you get older, your finances need to be adjusted accordingly and no matter which stage of life you may be, there is nothing more than what everyone wants to ensure or achieve – financial freedom and independence.
Personally, I always make sure that I save as much as I can. I don't buy signature watches, clothes, bags, shoes or expensive mobile phones like a lot of women otherwise do. I always think that those are not good investments at all, so I better save money for investments.
Since I can not afford to save 80-85%, I always save as much as I can and this is about 50% or more of my income.
Saving a decent percentage of your income every single month can mean that you can achieve your financial goals very quickly.
So, here some ways on how to save 50% of your income. Tested and proven.
---
Making More Money
To Increase Your Income Percentage
Logically, making more money can really help you reach an income percentage goal of over 50%. This is because your fixed expenses are setting limits on your capability to save so much money, but the amount of money you can make is actually unlimited.
You could work freelance, part-time, full-time or multiple jobs, start a business and so on. But the most important one – you could search for passive income and bring in more money with minimal effort.
There are so many simple things you can do online to try to make more money.
Blogging is one of the great ways to create passive income online. I can earn up to $1,174.00 per day doing product reviews. You can start creating your own blog FREE here with easy step-by-step video tutorials.
Becoming a freelance writer.
Becoming a virtual assistant.
Becoming Transcriptionist.
Take surveys, complete simple tasks, and complete offers – I recommend Clixsense for doing such gigs as it is open worldwide.
Earn more money on Fiverr.com for doing tasks like translation, content writing, video, social media marketing, making graphic designs and etc. See here the 15 ways to make money on Fiverr.com.
There is no guarantee when it comes to investing, but this method can generate you more passive income if you know how to do it right. So, you better start sooner rather than later.
Create Online Course – Everybody has special skills – whether it's cooking, painting or handicraft or even playing any musical instrument – you can make online course and create passive income from it. You can use Udemy.com, skillshare or shareable.com for this.
Create a webshop using dropshipping – is you don't like blogging, you can consider the dropshipping method. Dropshipping and webshop didn't work for me. But you can give a shot since other people are doing this business successfully. Shopify is one of the popular places to start with.
Become a Uber or Lyft driver – if you have spare time then this is a good way to earn more money instantly.
Become a Youtuber – do you like filming and recording videos? then Youtube can be a good friend to earn money online.
Related Post:
---
Lower Your Expenses
To Increase Your Savings Percentage
Okay, if you have a lower budget for your fixed and variable expenses then you can save a higher percentage of your income.
The best approach is to set the 50-60% of your income for your savings and investment and adjust your budget for all your expenses.
Example, if you have a take-home pay of $3000 a month then you only save 20%, which $600 a month. If you earn an extra $2000 for your gigs and save them all then your savings will be $2600 a month or 52%. While your budget stays the same.
The above example is on a monthly budget of $2,400 a month. This can become better if you cut some of the variable expenses or at least lower them.
Save More Money With The Following:
Lower your phone/mobile phone bills. most people are paying an unnecessary mobile subscription. I used to pay an unlimited subscription and have to pay like $100 before. But looking at my monthly usage, I only need a lower subscription plan – this means I can just pay $20 for my phone bill without compromising anything.
ATM fees.
TV. Cut your cable, satellite, etc. I personally use apple tv connected to the internet and I can watch movies on Netflix without paying a lot of money for the cable.
Pay bills on time. The goal here is trying to avoid any late fees.
Sign up for a website like instaGC and BeFrugal, where you can earn up to 40% cash backs and points for digital gift cards. You can use gift cards on Amazon, eBay, Mc Donalds, Burger King, etc.
Start eating at home more and lower your restaurant spending.
Bring your lunch pack to work and always bring some snacks in your bag.
Cut your travel budget. Oh, I love traveling. We sometimes travel up to 4 times a year in different countries. If you too love travel, then you can use budgeted hotels. There are plenty of ways to travel on a small budget. Another thing is earning credit card rewards – this is what we do.
Shop around for insurance. Your home insurance, car insurance, health insurance, life insurance, etc. Get quotes from at least 3 different insurance companies and compare their pricing. You'll see their pricing vary significantly from one another. And some of the insurance companies even offer cash backs if you didn't have claims at the end of each year.
Save money on food. There are a lot of ways of saving money from groceries and meat. Like buying big on discounts for example for meat and then cut the meat into a smaller portion.
Save money on fuel. If you can't entirely get rid of your car, then make sure it is a fuel-efficient. Some gasoline stations offer a credit card with rebates every time you tank up.
Live in a cheaper home. Consider living in a smaller home and save money for rental
Save money on utilities.
Save money on DIY projects. Learn do things yourself and save money from paying someone else instead.
---
Final Thoughts
For some people, financial freedom is just a daydream while there are some other people who are seriously striving to achieve it.
Achieving financial freedom requires different sources of income, preferably passive incomes, which means income vehicles wherein you don't have to trade your time for money.
If you're in the process of achieving your financial freedom and independence, then you need to start tracking your budget and adjust your expenses so that you can save and invest as much as possible.
This is the end to today's topic "How To Save 50% Of Your Income (Logically Easly)".
No, it's not actually that too easy! Of course, not! If it is, then there would be no poor everywhere and people who struggle with their personal finances despite a stable source of income.
If you have any thought or more suggestions, please don't hesitate to leave a comment below. Good luck with your journey to financial freedom online. God bless!