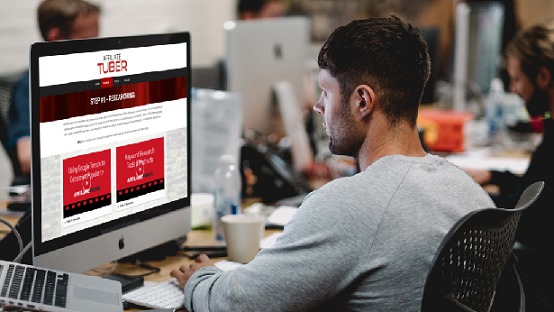 Affiliate Tuber Review: The Right Way To Earn Money From YouTube
Affiliate Tuber Review: The Right Way To Earn Money From YouTube
Are you an aspiring YouTuber and want to earn money from your own videos?
Then this program is for you.
Youtube has become a very huge video platform wherein it gives a great opportunity to earn money from it.
Today, there are a lot of Youtuber or Vloggers who earn a full-time income by posting their own videos regularly.
If you want to take the same path and reduce the trial and error methods of leveraging this income opportunity, then Affiliate Tuber could be a good option.
However, if you want to earn money from Youtube without filming or by just using other people's video, you may consider looking at this training program – youtubesecrets.com and Profit Injector.
But what is Affiliate Tuber? is it legit? How does it work?
We'll find all those things out through this review.
Welcome to my "Affiliate Tuber Review: The Right Way To Earn Money From Youtube".
Scope:

Affiliate Tuber Overview
What is Affiliate Tuber?
What Will You Get With Affiliate Tuber?
Affiliate Tuber's Platform
PROS
CONS
Verdict & Final Thoughts
Better Options
Still Can't Figure Out How To Earn Money Online?
Click The Button Below And Get My Free Guide.



Affiliate Tuber Overview: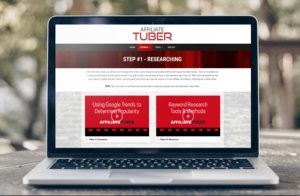 Product Name: Affiliate Tuber
Website: www.affiliatetuber.com (Check It Out Here)
Founder: Chris Derenburger
Product Type: Video Marketing Training Program
Price: $37 per month
Best For: New Youtubers and Vloggers
Rating: 85/100
Recommended: Yes

What is Affiliate Tuber?
Affiliate Tuber is an ultimate Affiliate Marketing Course that teaches you how to research, rank, and profit with an authority YouTube channel!
Anybody can create a video and Youtube channel but not every one earns money from it. Affiliate Tuber is the training platform you need if you want to know how to rank and attract a lot of viewers and subscribers to your channel.
This program is created by Chris Derenburger – a long term and full-time YouTube Affiliate Marketer. He is one of the few trusted people when it comes to ranking on YouTube and Google.
Having that said, while some of his methods can be a bit black hat, he knows his stuff and he gets results ranking for all sorts of products and niches.
What Will You Get With Affiliate Tuber?
This what Chris promises you to get as soon as you join this program:
44+ HQ Videos And Growing Every Month!
LIVE Case Studies (Researching, Ranking & Profiting)
Learn How To Rank Videos On YouTube And Google
Access To Custom RSS Submitter Tool
Discounted Pricing On YouTube Ranking Services
Access To NEW Keyword Tool
Access To Monthly Bonuses (Keyword Lists, Local Videos.. Etc.)
Access To Chris' VIP FB Group
Affiliate Tuber's Platform
The Affiliate Tuber's Platform is very impressive. It is well-organized and contains lots of high-quality training videos. This is how it looks like inside the platform.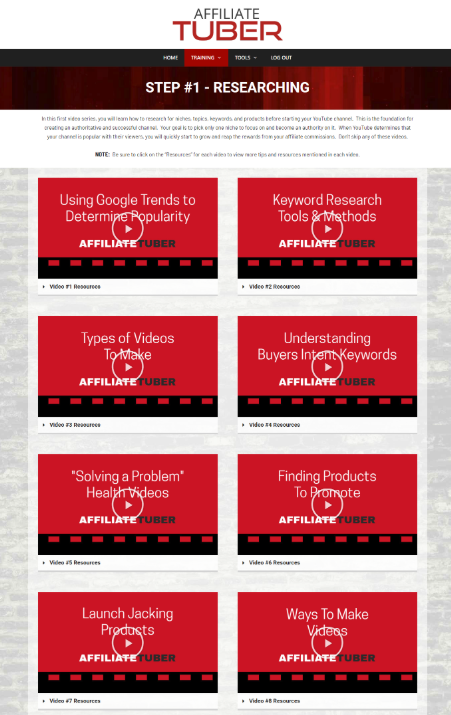 Step #1: Researching (8videos)
Step #2: Setting up a YouTube channel (6 videos)
Step #3: Building authority to your channel (6 videos)
Step #4: Optimizing and uploading videos (7 videos)
Step #5: SEO and ranking videos (6 videos)
Step #6: Case Studies (5 videos)


>>GET STARTED WITH AFFILIATE TUBER HERE<<
Still Can't Figure Out How To Earn Money Online?
Click The Button Below And Find Out The World's Best Program.

PROS
User-friendly platform
Great training contents – very well taught
High-quality step-by-step training videos
Very useful ranking tools
Useful Bonuses
Real case studies – you can still check the rankings today
Realistic income proof on the website and on Facebook Group
The author, Chris, taught from his own experience
No upsells
100% Money back guarantee
CONS
Relatively expensive subscription
A lot of affiliate links in the training
Still Can't Figure Out How To Earn Money Online?
Click The Button Below And Get My Free Guide.



Verdict & Final Thoughts
So, is Affiliate Tuber legit? Yes, definitely.
Obviously, I'm very positive and excited about this product. Affiliate marketing through Vlogging (video blogging on YouTube) is a good way of leveraging and building a passive income online. And Affiliate Tuber will teach you how to do it right.
So, if you are already a YouTuber and still struggling how to earn money with your videos, then this is definitely worth a try.
And if you are a newbie, then you are lucky enough to get across with this program because this will save you a lot of time figuring out everything from scratch.
>>GET STARTED WITH AFFILIATE TUBER HERE<<
Better Option
I love working for my own business from home. Affiliate marketing is a type of business that has made many people a huge fortune while others are just earning around $10,000/month and this is what I'm doing and I love it.
There many reasons why you should use this concept to earn a full-time income from home. And these were my reasons when I started with this business.
I can sell any product I want
The simplest and easiest concept for online business
Sure success as long as you keep going
Unlimited earning potential
No face-to-face or direct selling
No face-to-face rejection
No networking
No recruitment
No inventory
No administrative work
Very low investment
I can work entire just with my laptop and internet.
I am my own boss
Scam protected
I can earn Passive Income online!
Videos and filming is not necessary
So, if you hate product demonstration or presentation, public speaking and certainly not a fan of recruiting your families and friends just to earn, then this is the best business for you.
However, I know this business is not for everybody and there are some other opportunities rather than affiliate marketing. So, I have created a list of the proven ways to earn money online for you.
The first on the list are for quick cash, the others are for online jobs and freelancing, and the last one if for your long-term online business. Combining them will enable you to achieve a full-time income online faster.
Start your affiliate marketing business now.
Earn while learn and build your passive income online.

I'm looking forward to seeing you and guiding you in this awesome community. See you on the inside.
This is the end of my "Affiliate Tuber Review: The Right Way To Earn Money From YouTube". I hope you have learned more about this product/opportunity.
If you have any thought or question, please don't hesitate to leave a comment below. Good luck with your journey to financial freedom online. God bless!