Ecom Cash Crusher Review: Make $2,000 A Day Or Scam?
Sometimes we get across to a product online that triggers our curiosity.
Just like Ecom Cash Crusher, there is a lot of money making programs out there that promises quick results in just a very short period of time.
First of all, I would like to salute you for doing your research before diving into this online opportunity. That's exactly how you can avoid scams and bad programs.
In this review, I reveal the truth about this program – the good and the bad. So, you can see for yourself whether you can make $2,000 a day or not.
Welcome to my today's review "Ecom Cash Crusher Review: Make $2000 A Day Or Scam?"
Scope: 
Ecom Cash Crusher Overview
What is Ecom Cash Crusher? 
Signing Up With Ecom Cash Crusher
Ecom Cash Crusher's Training
Dropshipping Explained Simple
Can You Really Earn With Dropshipping?
Pricing & Upsells 
Fake Testimonials
PROS
CONS
Verdict & Final Thoughts
Better Option
Still Can't Figure Out How To Earn Money Online?
Click The Button Below And Get My Free Guide.



Ecom Cash Crusher Overview: 

Product Name:  Ecom Cash Crusher
Website: www.ecomcashcrusher.co (Check It Out Here)
Founder: "David Anderson"
Product Type:  eCommerce/Dropshipping Training
Price: $37 + Upsells
Launched: January 2019
Best For:  All Level
Rating: 20/100
Recommended:  No

What is Ecom Cash Crusher? 
Ecom Cash Crusher is a training program which claims that you can earn a significant amount of money quickly and with just a little effort and time.
It claims that you can earn $2,000 a day as soon as you start today. And you can earn up to $40,000 a month without any special qualification or skills.
Moreso, it states that it only takes 20 minutes to set up and get it running.
Yeap, who wouldn't wish it's a real deal. But there are so much more in this program to look closer with. No, not just the unrealistic marketing bait.
For example, the founder of this program is not really confirmed or no way to be confirmed because during the sales video he never showed his face. So, there is no chance of counter check or to do a background check.
So, we really don't know who is "David Anderson" which is the spokesperson in the sales video and claims to be the owner of Ecom Cash Crusher.
There's a lot more. Let's move on…
Signing Up With Ecom Cash Crusher
At a quick glance of Ecom Cash Crusher, the sign-up button looks like it just requires your name and your email to start with.
But, as soon as you enter your name and email, you will be redirected to the payment checkout. So, if you have a Paypal with automatic set up (like I do), you could be buying it right away unintentionally.
Nevertheless, it is not a usual "buy" action button. Normally, it will show a "Buy Now" and a cart checkout but this one is a little bit different.
So, I was instantly signed up (unintentionally) and then I got instantly subscribed to their list!
Hmmm, of course, no panic on my side. This is a ClickBank Digital product so I can just cancel and request a refund. Plus, I can just be unsubscribed from their mailing list.
Ecom Cash Crusher's Training
Gaining access to their platform is always a great thing when making a review.
So, what will you get if you buy this program? What kind of training?
The training program is all about E-commerce, specifically dropshipping using Shopify.
So, this is not really a secret method as it claims though.
The training itself consists of 21 video-based training. It is a step-by-step tutorial in building eCommerce store.
What you will basically be doing will be setting up a drop shipping store on Shopify platform.
It will also teach you to find a niche, domain name and the vendor to your products. A niche is the specific products you will be selling on your website.
For example, camping as your niche. Then, you will be selling all the products related to camping activities. You don't want to be selling everything and anything in your online store if you want to earn faster.
Dropshipping Explained Simple
Honestly, dropshipping is actually a good method of earning money online provided that you know what you're doing and you have the right tools.
I have tried it before. Unfortunately, I knew it wasn't the right business for me. I generated sales but not to the extent of my own expectations.
Here's how it works…
With drop shipping, you will act as a middle man.
You sell other people's product on your online store (Shopify)
You get sales from your online store.
You purchase the products (at a lower price) from dropshipping network/platform like AliExpress (vendor).
AliExpress will then ship the products directly to your buyers on your behalf and with the labels of your name and company name.
Then, you earn with the difference (Sales price minus acquisition cost)
You don't need storage or your own products.
This looks simple and amazing, isn't?
However, what is tricky with dropshipping is the operation itself behind the website.
While e-Commerce with your own products and inventory is more complexed (which I also tried before), drop shipping makes all the hard work easier.
But still, there were major challenges that I encountered when doing drop shipping business.
You still need to handle the billings.
You still need to track the products along the way.
The biggest challenge is that you still have to handle the customer service.
You handle the inquiries, complaints, cancel and refund.
And handle the return-product to the drop shipping company.
Last but not least, there are product lines that have to be bought in a bundle (for instance, 6 pairs of same shoe item) to avail the discount price. So, if you only sold one pair, you need to store the rest at your home. So, be careful with your product selection.
Can You Really Earn With Dropshipping?
Unfortunately, earning money with this is method is not that easy. I can tell you straight to the point – Yes you can earn with dropshipping BUT No, you cannot earn that fast as Ecom Cash Crusher wants you to believe.
Let's say you love dealing with customers and the administrative work. That's great.
However, the major task is actually how to "attract" buyers into your online store in order to generate sales.
So, you need to generate traffic to your website, which is your online store. You need to build your website with a reasonable number of products. You need to market it out so your target customer can reach you.
How will you do that? 
Through paid and organic traffic.
Using the paid traffic campaign will definitely drive you traffic. But this will be depending on your marketing budget.
Do you intend to use $1,000 a month, then that's fine. Oh, $1,000 marketing budget a month is a very conservative budget. Using social media ads like Facebook ads, Instagram etc. and most especially Google Ads? You bet this thousand bucks will be gone in no time.
What about the organic traffic then?
Oh, this is Free. You just need to be visible on the search engine like Google, Bing, and Yahoo so your target customer can reach you.
How will you do that? Through Search Engine Optimization (SEO) techniques. This is quite complicated and it takes time to learn and apply it in any online business if you are doing it alone from scratch.
The bottom line is…
Yes, you can possibly earn $2,000 a day with dropshipping. But it will ABSOLUTELY require significant time and money. This is definitely not just 20 minutes and $37 business investment.
Pricing & Upsells 
Looking Upfront the price of this program is only $37. Unfortunately, as soon as you signed up and got access to the training platform, you will be bombarded with upsells.
We do hate upsells, but how much are we talking about? Let's take a look at the affiliate commission offer – a whopping up to $258 per sale!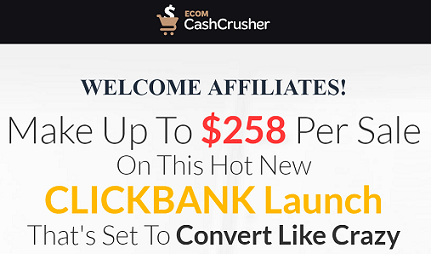 Fake Testimonials
Unfortunately, there is no actual and solid proof of income and earnings using Ecom Cash Crusher, not even the flashing numbers under the sales video.
But what even worst is that the testimonials are fake. Take a look at this.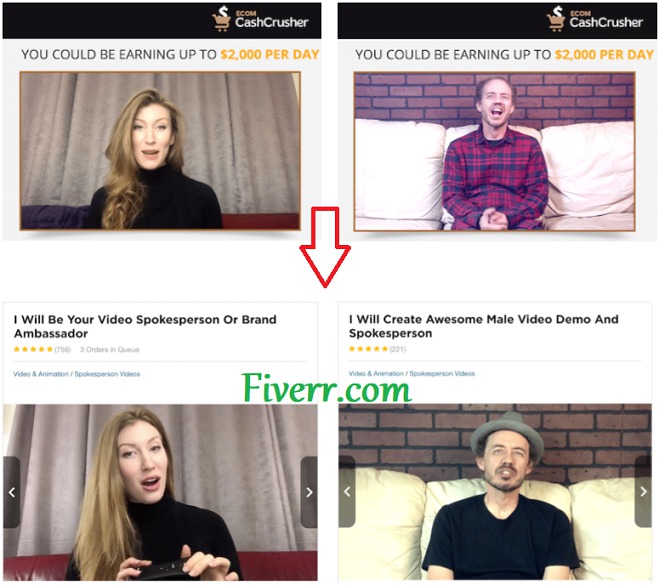 Nope. These people didn't really buy or use the product to earn that much as they were claiming in the sales video. Noticed, that they didn't even mention the name "Ecom Cash Crusher" during their testimonials.
These people were hired to make those testimonials in exchange for some pennies.
Still Can't Figure Out How To Earn Money Online?
Click The Button Below And Find Out The World's Best Program.

PROS
Legit business model (dropshipping)
60 days money back guarantee
CONS
Unknown owner
Unrealistic income claims
Unrealistic time frame before you see earning
Fake testimonials
Fake sob story telling
Huge Upsells
Low-quality training
Drop shipping is on a slow and dead zone for newcomers. People tend to buy on Amazon or eBay when buying something online.
Verdict & Final Thoughts…
So, is Ecom Cash Crusher a Scam? Yes, unfortunately, I will consider this a scam.
Although you will get something in return by buying this program, the fact that it uses unrealistic income, fake testimonials and unrevealed upsells are completely alarming.
Drop shipping is a great business method if you have what it takes. However, Ecom Cash Crusher is definitely not a training program that can earn you $2,000 a day and definitely not just after signing up today.
Exaggeration is not always a legit marketing bait. However, you can never go after them or even try to sue them due to the disclaimer that comes automatically with any money-making-online program.
Conclusion: NOT RECOMMENDED
Better Option
I love working for my own business from home. Affiliate marketing is a type of business that has made many people a huge fortune while others are just earning around $10,000/month and this is what I'm doing and I love it.
You can see how I earn up to $1,174.09 per day doing a simple product review like this one.
There many reasons why you should use this concept to earn a full-time income from home. And these were my reasons when I started with this business.
I can promote and generate sales with any product online
The simplest and easiest concept for online business
Sure success as long as you keep going
Unlimited earning potential
No face-to-face or direct selling
No face-to-face rejection
No networking
No recruitment
No inventory
No administrative work
No customer service tasks
Very low investment
I can work entire just with my laptop and internet.
I am my own boss
Scam protected
I can earn Passive Income online!
So, if you hate product demonstration or presentation, public speaking and certainly not a fan of recruiting your families and friends just to earn, then this is the best business for you.
This is definitely much better than drop shipping and e-Commerce in my own opinion.
Start your affiliate marketing business now.
Earn while learn and build your passive income online. 

I'm looking forward to seeing you and guiding you in this awesome community. See you on the inside.
This is the end today's topic: "Ecom Cash Crusher Review: Make $2,000 A Day Or Scam?". I hope you have learned more about this product/opportunity.
If you have any thought or question, please don't hesitate to leave a comment below. Good luck with your journey to financial freedom online. God bless!