GetResponse Ultimate Review: Exclusive Features No Other Has
GetResponse Ultimate Review: Exclusive Features No Other Has
E-mail marketing is one of the most stable and reliable marketing strategies for all businesses with online visibility.
However, building an e-mail list requires permission from the target customers to be included on their list. Otherwise, you will be considered as a spammer if don't follow the online anti-spam policy.
Are ready to build your e-mail list for your business to increase sales?
Then, you definitely need a great tool for that – GetResponse could be the best choice.
Welcome to today's topic "GetResponse Ultimate Review: Exclusive Features No Other Has".
Scope:
GetResponse Overview
What is GetResponse?
GetResponse's Features

Customer Service & Support
GetResponse List Building Program
Pricing
Pros

Cons

Verdict & Final Thoughts
Start Your Own Online Busines

Still Can't Figure Out How To Earn Money Online?
Click The Button Below And Get My Free Guide.



GetResponse Overview:

Product Name: GetResponse
Website: www.getresponse.com (Check It Out Here)
CEO & Founder: Simon Grabowski
Product Type: Autoresponder for e-mail marketing
Price: $15 + Upsells (See the pricing below)
Best For: All Level
Rating: 90/100
Recommended: Yes
Do you need a solid foundation in building an online business?

What is GetResponse?
GetResponse is one of the huge and popular online marketing platforms you can find on the web. It's a complete all-in-one online marketing solution that helps business owners to build permission-based mailing lists and to maximize sales.
GetResponse was founder by its own CEO Simon Grabowski back in 1999 with only $200 in the capital while he was still in college.
Today, GetResponse servers more than 350,000 active users from 182 countries around the world. It engages more than 1 billion subscribers every single month and delivers 10 billion permission-based emails a year with an average deliverability rate of 99.3 %.
GetResponse's Features
GetResponse has a very long list of amazing features. But what makes it competitive among another is that they have some features that others don't offer, such as the webinar and landing page.
Here's what you can get when you sign up with GetResponse:
E-mail Marketing
Automated Email Responses
Building and Personalizing Emails
Sending Outbound Emails
Manage Email Deliverability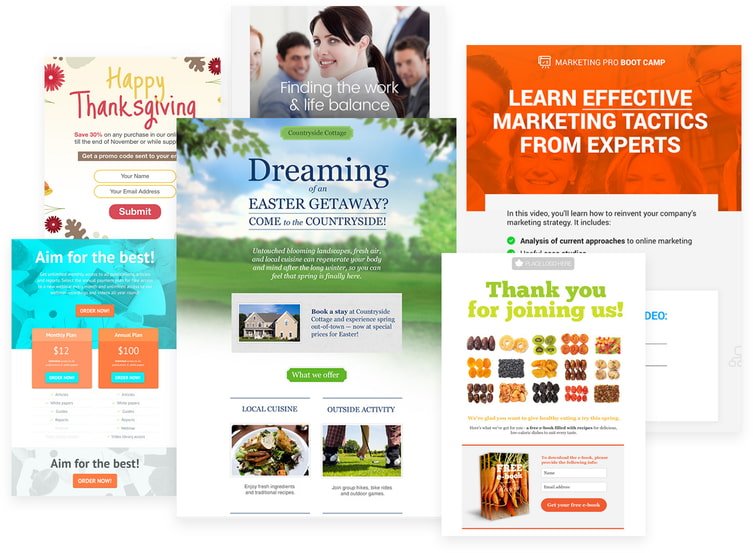 Online Marketing
Mobile Optimized
A/B Testing
Dynamic Content
Landing Pages and Forms
Search Tracking and Optimization
Lead Management
CRM Lead Integration
Automated Alerts and Tasks
Online Behavior Tracking
Lead Nurturing
Lead Scoring and Grading
Segmentation
Data Quality Management
Marketing Lead Database
Campaign Management
Budgeting
Calendaring
Event / Webinar Marketing
Program Management
Social
Social Ads
Social Sharing
Social Campaigns
Social Engagement
Social Listening
Reporting & Analytics
Basic Reporting
Revenue Analytics
ROI Analytics
Web Analytics
SEO / Keyword Analytics
Platform
Sandbox / Test Environments
Customization
Workflow Capability
The user, Role, and Access Management
Internationalization
Performance and Reliability
Output Document Generation
Integration
Data Import & Export Tools
Integration APIs
A breadth of Partner Applications
And a lot more.
Customer Service & Support
GetResponse has very good customer service and contact possibilities. They have an award-winning Customer Service Team ready to help all the time with the following:
First ESP to provide 24/7 Live Chat including weekends.
Email support with 7 languages
Helpful tutorials and FAQs
8 physical locations in:

Gdańsk, Poland (HQ)
Warsaw Poland
Halifax, Canada
Kuala Lumpur, Malaysia
Bonton, USA
Wilmington, USA
Moscow, Russia
São Paulo, Brazil
I have tried to contact the customer service via Live Chat twice, and I can tell that they respond instantly. And they are real people and not a chatbot which many websites use more and more nowadays.
GetResponse List Building Program
GetResponse offers a 60-day list building program for all paid members. The program has an everyday task and lesson that you need to do in order to build your list quickly.
They claim that this can generate 10,000 email list within just 90 days. So, better check it out.
The training includes:
Fundamentals: the dos and one (big!) don't of list building
Lead magnets and how to create them
Customize your confirmation and welcome emails
Use landing pages to increase your signups
Add a signup form to your Facebook page and email signature
How to produce video marketing content for social media
Customize your site's 404 and thank you pages
Find and follow influential sites in your industry
Set up a CRM pipeline to optimize your customer targeting
How to create a webinar
And literally up to 60 days effective tasks – read more here.
Still Can't Figure Out How To Earn Money Online?
Click The Button Below And Find Out The World's Best Program.

Pricing
GetResponse offers a 30-day free trial so you can find out it's something for you. As a trial member, you will get access to almost everything except for the training program.
The paid members have different options for subscription plans which prices vary accordingly.
Email Subscription Plan
1-1,000 subscribers: $15 per month
1,001-2,500 subscribers: $25 per month
2,501 to 5,000 subscribers: $45 per month
5,001 to 10,000 subscribers: $65 per month
10,001 to 25,000 subscriber: $145 per month
25,001 to 50,000 subscribers: $250 per month
50,001 to 100,000 subscribers: $450 per month
Pro Subscription Plan 1-5000 subscribers: $39 per month
Max Subscription Plan 10000 subscribers: $165 per month
Enterprise Subscription Plan 100,000+ subscribers: $1,199 per month
Prices for Pro and Max plan inscreases accordingly like the "Email" subscription plan.
These are the difference between the 4 subscription plans: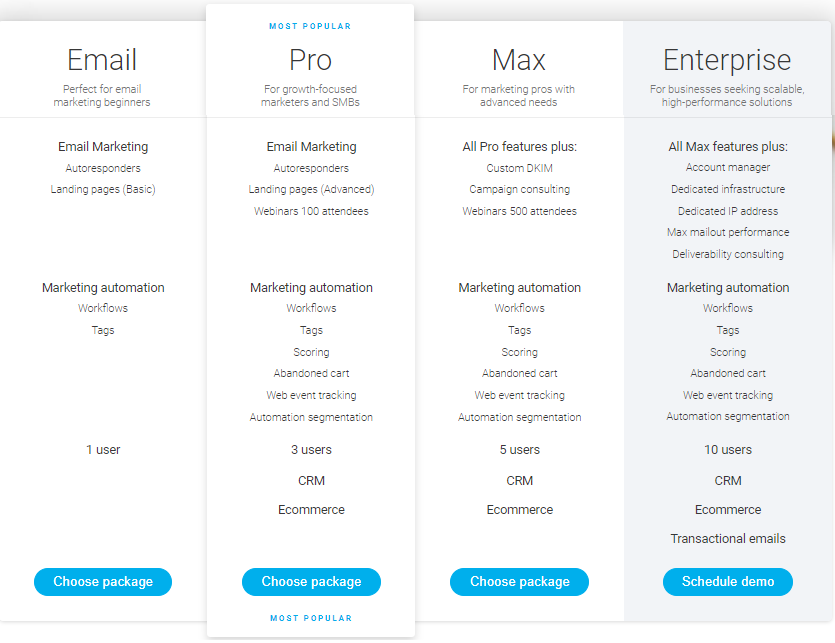 As you can see, the Pro Plans is highly recommended for you because it unlocks a very important feature such as "abandon cart".
PROS
A free, full-featured 30-day trial
Google Analytics integration
Third-party contact import integration
Easy-to-use tracking tool
Option to freeze accounts
Unlimited messages
Landing page available
Webinar function available
CONS
No refunds (even on annual plans)
Sign-up glitches
Can't view individual subscriber proles
Verdict & Final Thoughts
So, is GetResponse worth your business? Yes, it is.
GetResponse is highly recommended. It is an easy-to-use email marketing service with good third-party contact integration, solid support, and a variety of advanced features that you can try for free.
Landing pages and webinar features are not always offered from their competitors such as Aweber, MailChimp, Sumo etc.
They also have very competitive prices and cheaper among other autoresponder tools and online marketing platforms.
Start Your Own Online Business
I love working for my own business from home. Affiliate marketing is a type of business that has made many people a huge fortune while others are just earning around $10,000/month and this is what I'm doing and I love it.
See here how I make up to $1,174.09 per day doing product reviews basically like this one.
There are many reasons why you should use this concept to earn a full-time income from home. And these were my reasons when I started with this business.
I can sell any product I want
The simplest and easiest concept for online business
Sure success as long as you keep going
Unlimited earning potential
No face-to-face or direct selling
No face-to-face rejection
No networking
No recruitment
No inventory
No administrative work
Very low investment
I can work entire just with my laptop and internet.
I am my own boss
Scam protected
I can earn Passive Income online!
So, if you hate product demonstration or presentation, public speaking and certainly not a fan of recruiting your families and friends just to earn, then this is the best business for you.
Start your affiliate marketing business now.
Earn while learn and build your passive income online.

I'm looking forward to seeing you and guiding you in this awesome community. See you on the inside.
This is the end of my "GetResponse Ultimate Review: Exclusive Features No Other Has". I hope you have learned more about this product/opportunity.
If you have any thought or question, please don't hesitate to leave a comment below. Good luck with your journey to financial freedom online. God bless!