Hello there! I hope this post finds you well.
As you might know, I'm not a native English speaker. So, I honestly must admit that I use more time, sometimes too much time, trying to improve the quality of my blog posts.
I could literally edit my posts 20-30 times and still contains a lot of errors.
And not only my blog posts… my logo and images as well.
So, when I came across Grammarly.com after a co-entrepreneur recommended it to me, my writer's life has never been easier. It's still not perfect but I'm much more satisfied with it compared before.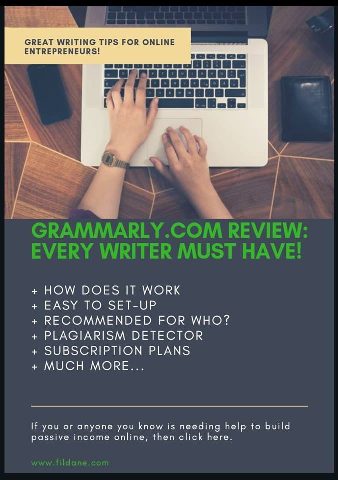 But what is Grammarly? According to Wikipedia, Grammarly is an online grammar checking, spell checking, and plagiarism detection platform developed by Grammarly, Inc. The software was first released in late 2009. Grammarly's proofreading and plagiarism-detection resources check against more than 250 grammar rules.
Grammarly.com has saved me much time today. When I installed Grammarly, it instantly scanned a more than 3,000plus spelling and grammatical mistakes in my blog posts on the spot.
Today, it's not the so extreme anymore. However, if you find errors here and there, please accept my apology in advance.
I must admit that it was absolutely gratifying to fix all the errors.
JUST STARTED OUT? Get my FREE guide below and sign-up for my FREE 6-day Mini-Course

Grammarly.com Review: Every Writer Must Have (FREE)
Grammarly.com Review Summary: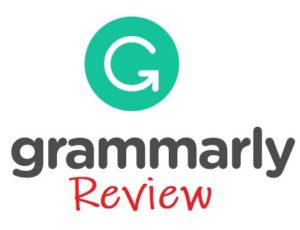 Product Name: Grammarly
Website: Grammarly.com
Developer: Grammarly, Inc.
Product Type: Spelling and grammar correction tools
Price: FREE plan ($0) and premium plan ( as low as $11.66/month)
Best For: Non-native English Writer and Speaker
Rating: 99/100
Recommended: Yes, Highly recommended
Wondering how to start your online business through content writing and marketing?
Start your affiliate marketing business now. Earn while learn and build your passive income online.

How Does Grammarly Work?
Grammarly is a great writing tool that helps you check for several types of errors.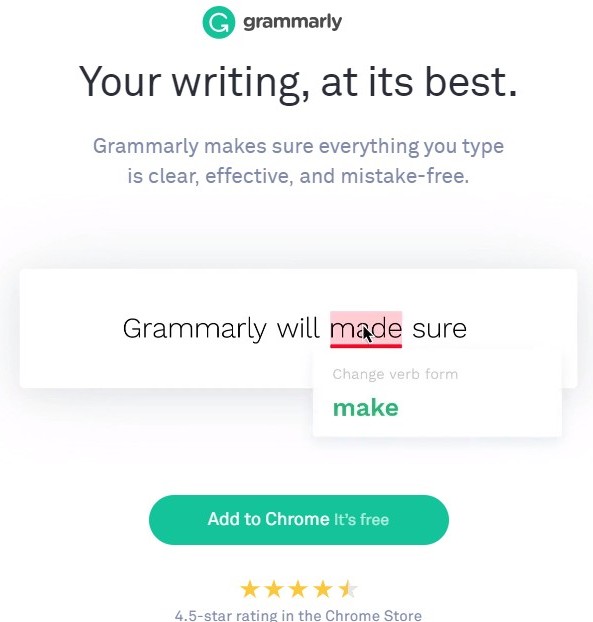 Spell Check
It's an amazing and robust spell check tool.
Grammar and punctuation
It automatically detects potential grammar, spelling, punctuation, word choice, and style mistakes in writing – from basic to advanced. And then, it will provide suggestions and guidelines on how to correct these mistakes.
Plagiarism
Grammarly scans and detects plagiarism, by comparing your writing to billions of pages across the web.
Writing Style
Grammarly will also help you self-edit your work by providing insights about your readability score, sentence-length etc. This is definitely helpful for adapting your writing style to your audience.
Easy To Setup
There are many ways on how to use Grammarly. You can use Grammarly's online text editor directly on their website, or install Grammarly's free browser extension your Chrome, Safari, Edge, and Firefox. And you can also choose to install Grammarly straight to your desktop.
I personally use the Chrome plugin and it works perfectly. If you want to do the same, all you have to do is to click "Add To Chrome" button (as shown on the above picture), add the extension, and voila! all will be set up in just 5 seconds.
>>Click here to set-up Grammarly – it's an easy process.<<
Who is Grammarly.com Recommended For?
Grammarly.com is highly recommended for both non-English and native English speakers. It is also recommended to those who don't write in English that often. Most people who use Grammarly.com include:
Bloggers
Copywriters
Authors
Content marketers
Students
Any professional who wants to draft an accurate report, presentation, email or social media post.
For every type of writers, this grammar tool acts as another line of defense, especially if they are non-English speakers, like me or even if they are native English speakers. This tool is absolutely powerful and very useful. You can use it to make sure your book, article or blog post is accurate and most importantly, easy to read.
The premium version is great for students who may be tons of work they want to check such as thesis, long pages report, feasibility studies, and major projects. You can take out a one-month subscription, check your work and then cancel if you need to. That being said, make sure to check that you're not violating any rules and regulations set by your university or school – for example, if you are an English teacher-student.
The business version is highly recommended for businesses or organizations who want their employees or members to use Grammarly in any work-related writing tasks. Business version grants 3-100 users of this app/software for just $15/month. This is really a huge saving. This is also useful for family subscription – and guess what? you can give your friends access too.
How To Use Grammarly Tools?
There are different options on how to use Grammarly.com:
Option 1 – Direct
Go to Grammarly.com's dashboard. Copy and paste your entire article or any writing material for proofreading, grammar checking and for a spell check.

Option 2 – Import
You can also choose 'Import,' where you can upload a Microsoft Word document into Grammarly.
Option 3 – Apps
Another option is to actually use Grammarly as your primary writing app, by writing directly in the tool. Grammarly will automatically start highlighting the errors out as you type. Once you click on the "Correct with Assistant" button, Grammarly will show you the errors and make suggestions for corrections of these errors.
Option 4 – Windows
Windows users can also install a Grammarly plugin on MS Word, which will help you detect errors as you write. However, this plugin isn't available for MS Word in MacBooks.
Grammarly Suggestions
As I mentioned, I personally use Chrome app. As soon as I start writing anything using Chrome – such as writing a blog post on WordPress, Social Media Blog etc., this proofreading tool underlines grammar mistakes very similar to what you see in Microsoft Word.
The premium version also provides more detailed suggestions than that free version (or word) about why you made writing errors such as mistakes in sentence structure.
This is absolutely useful if you're a non-native English writer or if you just started your writing career and want to improve your knowledge of English grammar rules. You can take a look at Grammarly handbook, which is filled with grammar tips if you need more help.
However, you should still remember to exercise judgment before deciding what to fix and what to leave.
Plagiarism Detector
There are numerous programs that can detect Plagiarism. Schools and other institutions use plagiarism detector to make sure that students or professionals will not cheat. So, if you are a student and writing a major academic project, make sure you use this feature of Grammarly. This is included in your Grammarly account – so, use it.
If you are a blogger and content marketer, you know that this feature is important. This allows you to check if someone has copied your work or if you have inadvertently copied text from other's research sources and then forgotten to edit the content to make the text original.
This feature might also appeal to college students or business professionals who are concerned about citing too heavily from their sources.
Subscription Plans
There are 3 types of subscription at Grammarly.com: The Free Plan, Premium Plan, and The Business Plan.
Here's what you'll get for every plan:
FREE PLAN ($0): Number of users: 1
Writing issues Grammarly helps fix:
Grammar, spelling, and punctuation errors
Grammarly core features:
Best-in-class AI system for writing correction and improvement
Access from mobile and desktop devices
MS Office Add-in
256-bit AES and SSL/TLS encryption
GDPR and Privacy Shield compliant
PREMIUM PLAN ($11.66/month) : Number of users: 1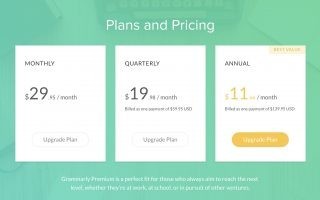 Writing issues Grammarly helps fix:

Grammar, spelling, and punctuation errors
Inconsistent writing style
Unclear sentence structure
overused words
Ineffective vocabulary
Wordiness
Hedging language
Impoliteness
Insensitive or non-inclusive language
Inappropriate tone or formality level
Plagiarism
Grammarly core features:
Best-in-class AI system for writing correction and improvement
Access from mobile and desktop devices
MS Office Add-in
256-bit AES and SSL/TLS encryption
GDPR and Privacy Shield compliant
BUSINESS PLAN ($15/month) : Number of users: 3-100
Includes all premium plan features plus the following:
Powerful team management tools:
Individual accounts
Admin panel
Centralized billing
Team usage statistics
Priority email support
PROS
Excellent online grammar knowledgebase and tools
Defense against grammar errors for authors, bloggers, and writers
Highly recommended for non-native English speakers and new writers
You can choose between US and British English
Grammarly works as an extension for your browser (Chrome, Safari, Firefox & Edge are all supported), desktop as well as mobile applications.
You have access to it at all times.
There is a

FREE plan available

and you don't need to upgrade.
CONS
A plan for $29.99 a month for a grammar tool may not be attractive for all writers.
Grammarly is not a replacement for a human proofreader or an education
Final Thoughts…
So, is Grammarly.com a great grammar tool? Absolutely! It is highly recommended to everybody in any writing task – especially if you're a non-native English speaker.
It's true that you don't have to be perfect in writing when you are a blogger or engaged in any online business. However, Grammerly.com will definitely help you to improve the quality of your articles.
So, if you are a non-native English speaker and you hesitate to start an online business because you are afraid to get embarrassed with your grammar, then you have to reconsider it.
Firstly, you don't have to be perfect. Secondly, you don't have to write a professional level of English. Just write as if you are talking to a friend. Lastly, Grammarly.com is a great tool to have to help you edit your blog posts, emails, and even your social media posts to remove language errors. So, what's stopping you?
I hope that you'll find this review useful and helpful. Most importantly, do use Grammarly to improve your writing skills and improve the quality of your articles and posts.
Once again, click here to check out Grammarly, it's free!
Wondering how to start your online business through content writing and marketing?
Start your affiliate marketing business now. Earn while learn and build your passive income online.


I'm looking forward to seeing you and guiding you in this awesome community. See you on the other side.
If you have any thought or more suggestions, please don't hesitate to leave a comment below. Good luck with your journey to financial freedom online. God bless!