This post may contain affiliate links. For more info visit my disclosure page.
Have you been scammed before? Report them to the 

FTC Here

.
ClixSense has been around for many years now, but if you are new to online money making and came across ClixSense for the first time, then you'd probably wonder if it is legit or scam.
ClixSense is founded back in 2007 as a PTC site. But after many years, ClixSense has undergone a lot of changes in their business models. So, this review is the most updated one around the internet at the moment.
Since July 17, 2017, ClixSense has no longer Paid-To-Click (PTC) offers to its members and members can also no longer make money viewing ads and advertise on there. And this has caused dissatisfactions for the active members.
PTC was one of the popular ways to earn quick cash withing ClixSense and it's probably a major decision for them since many members have been enjoying making money from clicking ads.
Now, without PTC, will members still remain and what are the other tasks can they do to make money?
Does it even worth your time to remain a member at ClixSense?
Is ClixSense A Scam? – Quick Cash [Worth Your Time?]
ClixSense Review, Summary: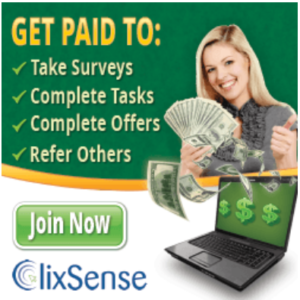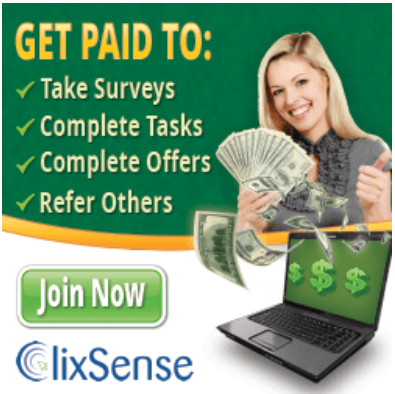 Product Name: ClixSense
Website: www.clixsense.com (Sign Up Here)
Owner: Jim Grago
Program Type: Get Paid With Surveys, Offers etc.
Membership: FREE
Best for: People who want to earn extra money online
Recommended? Yes, for pocket pennies. No, for full-time income.
Ratings: 60/100
Verdict: Legit
If you don't want to waste any more time for pennies, see My #1 Recommended Way of Making Money Online:

The scope of this review:
– Goodbye PTC, ClixGrid & PayPal
– How to make money with ClixSense?
– Is ClixSense still worth your time?
– PROS and CONS
– CONCLUSIONS
– Is there a bigger money maker?
GOODBYE PTC, CLIXGRID & PAYPAL
Members were being able to make some few pennies with PTC (Paid-To-Click) just by clicking on ads and viewing them on their screen for 15-60 seconds. Easy money, right? But now it's gone.
Aside from PTC, ClixSense has also removed another popular way to earn money, the ClixGrid. ClixGrid requires also clicking on ads, but you will only earn money when you clicked on a lucky square on the grid. This can earn you between $5-10. This is also gone now.
But why did ClixSense decided to do that? This is because the owner claims that PTC wasn't profitable for them. Well, that's business.
And this is also the reason why PayPal had pulled their account back in February 2017. Too many PTC sites were scamming people and made it too difficult for PayPal to have these merchant accounts.
However, ClixSense is not one of the PTC scammer sites. It is a legitimate company and running an honest business. But ClixSense has to lose their PayPal account after 7 good standing years – all because of the PTC scammers.
So, it makes sense that the PTC tasks are now gone within ClixSense. Although, the owner refuses that the removal of PTC off their site is because of losing their PayPal account. Surely, this has impacted their business greatly as PayPal is so widely used.
Since then, these are the methods of payment available for cashing out your earnings:
OTHER CHANGES
Aside from removing the PTC tasks within ClixSense, there are other major changes within the platform:
Different levels of membership are also gone – Premium membership level along with a corresponding 8-level commission structure has all been removed.
20% commission for all affiliates – Now, everyone is on the same commision rate. This is to compensate for the membership changes.
$10 minimum cashout – Now the minimum cashout is lowered to $10, although $20 if you're using Payoneer.
Checklist bonus – ClixSense will now pay a maximum of 16% if all requirements are met.
HOW TO MAKE MONEY WITH CLIXSENSE?
After removing PTC from the site, you can still make money on ClixSense by doing the following:
Filling Out Surveys
Completing Tasks
Taking Offers
Referring Others
Surveys
Filling out different surveys every day can earn you money about $0.32 to $1.25. Some will take 3 minutes and some can take up to 20 minutes. Notice, that the survey can be available in your local language. Since I am from Denmark, I get a lot of Danish survey offers. And of course, the majority of the offers are in English.
So, you can honestly make good quick cash if you are fast enough to fill out surveys every day. Take note, that the daily survey invites are not always so many as when you first sign in.

Let's make an example of how much you can earn provided that survey invites are stable in numbers. ClixSense works with different survey networks so the payout differs even if it takes the same amount of time to fill out.
5 surveys with 20 minutes duration @ a compensation of $1.25 = $5.00/hour.
6 surveys with 10 minutes duration @ a compensation of $1.07 = $6.42/hour.
20 surveys with 3 minutes duration @ a compensation of $0.43 = $8.60/hour.
12 surveys with 5 minutes duration @ a compensation of $1.25 = $15.00/hour.
Pretty cool, right? Now, here's the catch. You can not take the same survey again and again. You have to wait for the invites. So, no! You can not make 12 surveys each and every hour of the day. And sometimes you only get 1-2 invites in 1 day.
Another very important thing to point out with taking surveys is that you have to give your personal information away. This means that you will get tons of emails, SMS and phone calls trying to sell you something every now and then.

Completing Tasks

Tasks are provided by Figure Eight (Former CrowdFlower) within ClixSense. Figure Eight is a crowdsourcing service that enables you to complete some small tasks in an exchange with a single penny. Well, obviously you need to complete hundreds of tasks to make a single dollar.
Oh, by the way, you can get $5 bonus when you earn $50 from completing tasks. Good luck!
Taking Offers

This platform inside the offers gives hundreds of opportunity to earn money. 1 Clixcent is equivalent to $0.01, which means if you take the 336 clixcents offer, you will earn $3.36 and so on.
What's the catch? Well, this is usually something you need to take actions on, either you will be doing some kind of rating an app download, review, survey or signing up for some services.
Be aware of the free offers that will automatically sign you up for an expensive subscription.
Besides the ClixOffers, you can see that ClixSense has now only 8 network partners. They were 13 networks last year. So, let's hope these partners will not all vanish one day. Anyway, with that 8 networks, you will not be running out of offers.
Referring Others
If there is one thing I like with ClixSense is their Referral Program.
Signing up with ClixSense will automatically enable to make money by referring others to become a member – your friends, family and everyone you know.
You will get an affiliate link, that you can see under your account summary. This will look like this:
https://www.clixsense.com/?2661427
You can use this link to invite anyone or promote it on social media.
Once they sign up, this is what you earn:
Since affiliate marketing is my favorite, I can say I'm impressed with their affiliate program. You get $0.10 to $0.30 (depending on their country) for each active members and you get $2.00 when your referral earned their first $5.00.
And you all earn recurring commissions for up to 30% from your referrals activity commissions. That's pretty cool, right?
IS CLIXSENSE STILL WORTH YOUR TIME?
Well, I came across ClixSense in 2009. I know already back then that this was not the online opportunity I was looking for. I reactivate my account today, primarily because I want to make an honest review of ClixSense, so I can help other people who want to earn online. I knew back then that it's legitimate but I never wasted my time.
Reopening my account today has shown me so many changes in their program but it is still basically the same – you have to consume a lot of time in exchange for pennies.
Well, that's me. Of course, there are some people who would be happy to make a little money online as a supplement to their budget. If you're one of them, the ClixSense is a good place to go.
However, if you are doing this thing, you have to be aware of some issues.
1. Qualifying for the survey can be tricky. There are many members who have experienced being disqualified from the survey after spending 10-20 minutes – just to find this out in the midst of the survey. So you could be wasting your time. This can happens several times. You really don't have the real clue if you are qualified or not until it pop-up – then you have to stop.
See what other members say about this problem. They have different posts about it and as the other one said: "It happens to us all, and this stuff does happen."
2. Takes a lot of time to earn money. Just take a look at some of the top earners.
Sure they have earned money like – $420 since February 2015 (more than 3½ years), $3,202 since May 2012 (more than 6½ years) and the other one has earned $1,896 since November 2009 (almost 9 years). Wow, that's what you do call patience.
And have you noticed how many tasks and offers they have made? Thousands! How about the posts? Oh man! I could have made 15 profitable websites and much more fortune if I already made 7,357 posts, 11,891 tasks, and 17,191 offers – working for my own websites!
Well, we are all different! These people are very impressive but that how I make money online.
PROS and CONS
PROS
1. Easy to navigate.
2. Many ways to earn money.
3. Great affiliate program.
4. Several networks available.
5. International members.
6. Different languages available with surveys.
7. Good source of pocket change.
8. You can work anywhere and anytime.
CON'S
1. PayPal is no longer available for a mode of cashout.
2. Qualifying for the tasks/survey can be tricky.
3. Bad Figure Eight Support.
4. Delayed credits after completing tasks.
5. Time-consuming.
6. Not suitable for full-time income.
7. Inactivity for 90 days and you'll lose any unpaid earnings.
CONCLUSIONS:
ClixSense is not a scam. It's a legitimate company.
If you want to make a pocket change or pennies online then ClixSense is a good place to go, provided that you are aware of the con's I've mentioned above.
You have to spend a lot of time and it doesn't worth it if you really need a full-time income online.
Taking thousands of tasks, offers and surveys can reck your personal privacy as you have to give your personal information. You will be getting tons of marketing email, SMS and phone calls in exchange for some couple of pennies or may a dollar if you're lucky.
Here are the main pointers:
You are basically being paid $5-$8/hour, but this is not stable.
This is not long run an online business that can give you a full-time income.
You'll always be chasing the money instead of building an asset that will generate passive income for you.
IS THERE A BIGGER MONEY MAKER?
Your time is very valuable. Use it wisely. Invest your time better by building an online business that can significantly change your life forever!
What an online business can do for you:
Make money while you sleep – Passive income!
More time with your family
Freedom to work on something you love
Sustainable for the long-term business
Make a dependable income.
Online business accumulates your income as time goes by.
Wait for a second! I'm not talking about an instant fortune here! There is no magic with the real business. I'm talking about putting and investing your time in a hard work to build this online business and believe me it will all pay off much more than those pennies that you can earn from ClixSense.
And no, you will not build this overnight, businesses take time to build and there's a learning curve for anything new you approach but you'll be building your online business at the same time as you learn.
Building a passive income generating business through affiliate marketing is the easiest and real way to achieve financial freedom online.
If you want to find out how it works, check my very simple guide for beginners here:

However, if you can't wait to start your journey to online financial freedom, I would personally invite you to register here: Wealthy Affiliate for FREE. Yes, it has a free starter membership and an optional premium membership.
You can stay as a free member with limited access as long as you want. But remember to take the training seriously because you will start your online business as soon as you start your training.
These are what you will be going to get as a free member:
2 free websites
free highly secured web hosting
free first 10 lessons – Online Entrepreneur Certification
free first 10 lessons – Affiliate Bootcamp
It's absolutely FREE. You won't have to pay a single dime until you check it out and see the value of the great training platform.
Click the button below to learn more about Wealthy Affiliate as my #1 Recommendation:
I hope this ClixSense Review has enlightened you with any doubt you had. If you have any question or thought, please feel free to leave me a comment below. Good luck to your journey to financial freedom online.