Oriflame is one of the leading cosmetics company that offers a business opportunity as a beauty consultant.
If you are interested in Oriflame Business Opportunity and still have a lot of questions before joining, then you're at the right place as I want to answer some of the important questions you probably have right now. 
As you know, Oriflame is a multi-level marketing (MLM) business opportunity. I have worked with 3 different MLM businesses over the years and I hope you can learn from my experience and make a better choice.
I'm sure even before you finished reading this review, you definitely know whether or not you should become a beauty consultant with Oriflame. 
So…
Is this business right for you?
How To Earn Full-Time Income With Oriflame? 
Is Oriflame A Scam? Is Oriflame an MLM Business?
Is Oriflame A Pyramid Scheme?
What is the compensation plan and the success rate?
And a lot more. 
So, let's get started… 
Oriflame Business Opportunity [A Dream Or A Scheme?] – Must Read
Table of Content
Oriflame Reviews: Summary 
Company Name: Oriflame
Joining Price: £39 (Plus £ 10 per year) 
Rating: 50/100
Recommended: No 

Summary: Oriflame is a multilevel marketing (MLM) business and definitely a good company with great products. But, you should NOT join if you really want a profitable home-based business.
Here's why.
Multilevel Marketing (MLM) businesses have a very low success rate of only 1%. This basically means that 99% of all who join an MLM business lose money. And yes, Oriflame is not exempted.
If you are interested in a home-based or online business, then you need to check out Wealthy Affiliate. This is the single best place to learn how building a profitable online business really works. This is also where I gained all my online business skills and learned how to earn up to $1,174.09 in one day.
The best part? It's free to try! Click below to learn more:
<<My Top Recommended Training>>
Oriflame is a Multi-level Marketing (MLM) business that sells cosmetics and other beauty-related products.
It is founded back in 1967 by the brothers Jonas af Jochnick and Robert af Jochnick and their friend Bengt Hellsten. 
Oriflame is available to more than 60 countries worldwide and it has around 3 million beauty consultants, which generated $1.3 Billion in 2018.
Oriflame is a Swedish company group listed on the Nasdaq Stockholm Exchange.
Lawsuits: 
2018 – Oriflame was slapped for illegally using Fifa World Cup imagery.
2018 – Vietnam penalized Oriflame for MLM violations.
2014 – Russia searched Oriflame's Moscow offices and seized documents related to unpaid taxes amounting to $84 million from 2006 to 2010. 
Oriflame Reviews: General Information
Product Lines:
Skincare
Wellness
Cosmetics
Fragrances
Personal and Hair Care
Top Sellers:
White Original Eau de Parfum: £30
5-in-1 Color Stylist Lipstick: £10
5-in-1 Wonder Lash Mascara: £9
Eleo Hair Mask: £7.95
Age Revive Anti-Aging Cream: £5.95 (sale)
Blackhead Clearing Mask: £7
Oriflame Reviews: Becoming A Beauty Consultant?
To become a Beauty Consultant, you need to purchase a Business Starter Kit.
Going directly to their website (uk.oriflame.com) will give require you a joining fee of £39 and an annual membership fee of £10.
However, you can also find some of their geographic websites (in.orflame.com). Here you'll be offered two ways to join their business – either as an independent beauty consultant or as a VIP customer.
As a VIP customer, you can register for "Free" but you'll need to buy a start-up case for £45 or more. 

Oriflame Business: Compensation Plan
Just like any other MLMs, generating a full-time income with Oriflame Business is quite complex and far to be easy. It's nearly impossible BUT still, it is possible. 
How much can you possibly earn as a beauty consultant doing this business?
A major thing that all MLM businesses have in common is the overwhelming compensation packages that they offer to the members. Of course, they have to do this- Otherwise, nobody will be interested in joining their MLM sales team.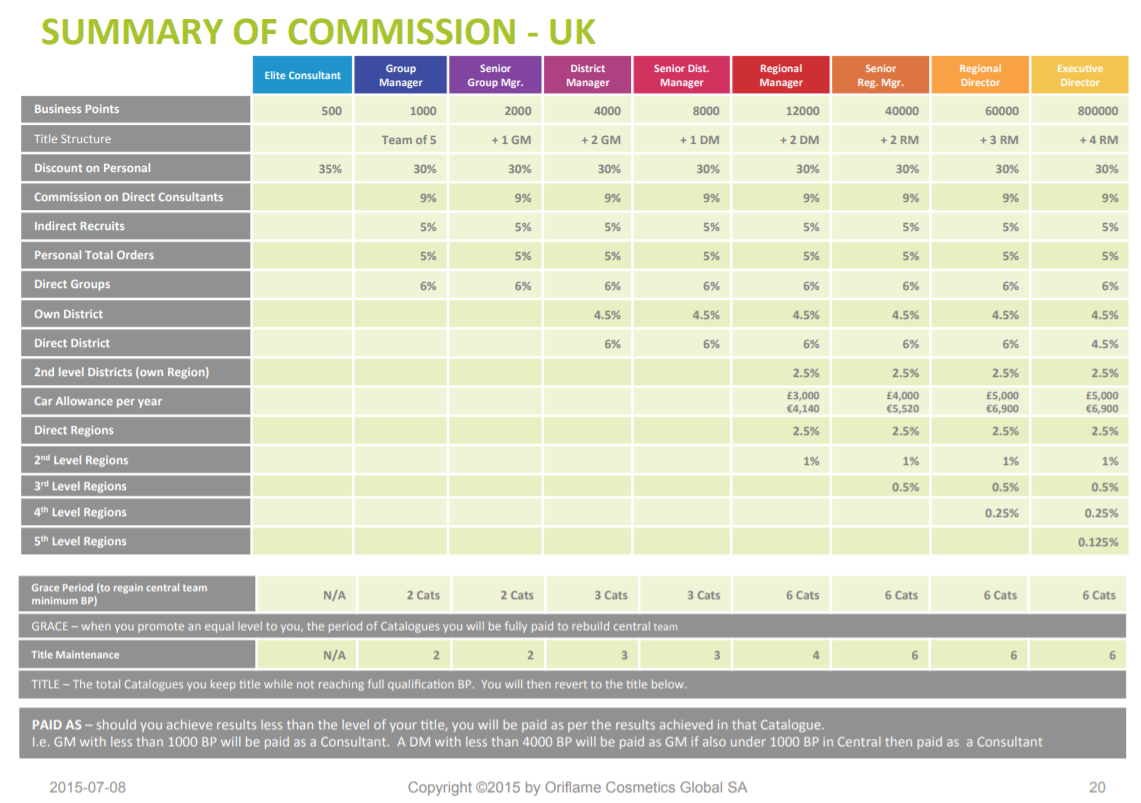 Overwhelming? I think so too.
If you are an experienced super seller, then this compensation plan will be great for you. But if you are a complete newbie in MLM business, then think again.
In order to a full-time income with Oriflame Business, you need to recruit a lot of people and the people you recruited must do the same. NOT only that. You need to meet sales quotas every single month.
That's A LOT of selling and recruiting.
But don't get me wrong some members are VIP customers so they are enjoying the discounted price. If that's your purpose, then that's very fine.
But if you want to earn a full-time income with Oriflame, then you need to be ready with real hard work, as this business is not a quick-rich scheme. It needs skills, proper training and commitment to succeed (just like any other business).
So, let's say you reached the second level in the position ladder – the Group Manager. 
You can read the whole presentation of Oriflame's Succes Plan Here.
See the image below and see what you should expect you'll be earning as a Group Manager.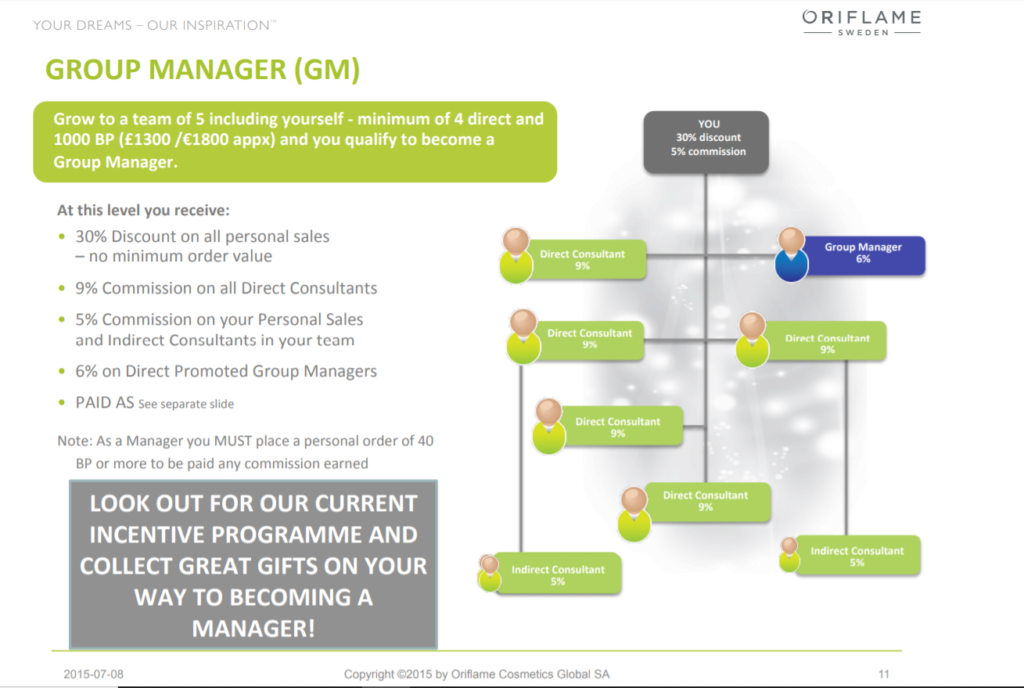 ££Let's do a simple math. 
30% discount personal sales. If your desired full-time income is at a decent £3,000 per month, then your personal sales should be at £10,000 per month with recruiting anyone under you (let's say you'll demoted back to consultant position though). 
Let's take the above example – a Group Manager with 5 direct consultants and 2 indirect consultants plus 1 Group Manager. Looking at the summary page – this downline structure is for a Senior Group Manager. 
Computation of commission:
Direct consultants – 9 % , indirect consultants – 5% and Group Manager – 6% 
£39 x 5 = £195 * 9% = £17.55 
£39 x 2 = £78 * 5% = $3.90 
£50 * 6% = £3.00 
Total : £24.45 For the Joining Fees + Group Manager Money Order of at least 40BP (Business Points). 
Note: The group needs to generate £1300 sales for you to retain your title. And you get 5% commission. 
So, that's £1300 * 5% = £65
Total: £89.45
To earn £3,000 a month as a Senior Group Manager? 
You need to hope that you can sell up to £10,000 every single month. Recruiting will not pay off. 
A Profitable Home Business Is Simple
If you have the right training, supportive community & mentor, making money online is easy. Click below and get all the three:
Why Is Earning A Full-Time Income With an MLM Business Too Hard?
The main challenge in selling the MLM products is that they are relatively expensive compared to the products outside MLMs. The people who buy these MLM products are mostly those who patronage the products very much. And you bet they're not that many. So, to generate sales of £10,000 a month? It is nearly impossible.
Another thing is, the market is too saturated. They're a lot of distributors of the same MLM company everywhere. Yes, even in your own town. Plus, the internet's selling option too! So, the competition is high because the other distributors are not on your team (your crossline) when you just got started.
Unfortunately, the people who joining an MLM business are ending focusing on recruiting new members because that's where the money at.
What's even harder with the Oriflame business is all the monthly sales quota that you need to generate in order to maintain your title and earn a commission.
Plus, you need to RECRUIT new members who will be facing the same problems and then quit after a couple of weeks or months max.
What will happen to the business then? D.E.A.D.
Personal Experience With MLM Businesses
I was hard-headed. Even though my father said to stay away from MLM businesses, I didn't obey him. I thought I could prove that I could do it anyway if I just work hard. If you've read my bio, you'd probably remember that I tried at least 3 MLM businesses for many years. 
Probably I thought it was that as easy as they presented it to me or maybe because I thought it was easy to sell great products even they are expensive or probably because I couldn't say "no" to the person who invited me to join the business. 
I thought – all I had to do was to recruit 2 people – one on my right and one on my left side – and the business would take care of itself. I thought it was that passive! And that's far from the reality.
My last journey with an MLM business was actually the "nicest one" – great products and good company. But no matter how great the products were and how active I was – I didn't make a fortune.
I was recruited by my brother and a lot of my family members became members too. I recruited my friends too – some of them joined and some of them became aloof.
But you know what I think the BIGgest problem was?!
As the team became bigger and bigger (my downlines were crosslines to each other, right?!), the communication became more difficult. The further the downlines were, the more difficult it was to stay connected. Which means, the recruits of my recruits' recruits were no longer connected to me. So, once they stopped working, the business died.
Why? it's because it was actually easier (although very difficult) to convince people to join an MLM business than to convince them to stand up and talk about the business. 
Most of the people who join MLM do actually expect their uplines to do all the sales work. Little they realize that this mindset is actually the one killing the team – the idle members.
MLMs are not a quick rich scheme – it's a real business that requires an enormous effort of selling tasks and team building, just to name the few.
BUT honestly, you'd be better off if you build your OWN business than joining an MLM business. I should know, I tried this kind business for many years.
Why Only 1% Make Money With MLM Business 
So, why are there only a few people who make real money with MLM?
Because it's designed that way!
Only people on the top get rewarded and the people at the bottom lose money.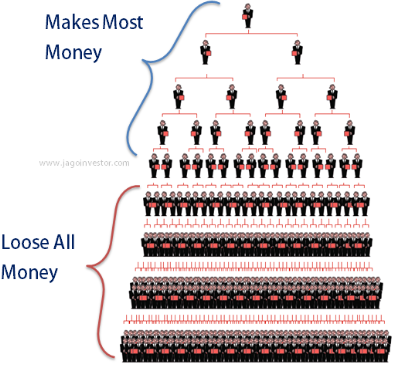 Unfortunately, this is how mlm business works.
An MLM business becomes only legit when the company can give a legal arguement that distributors can earn commissions by doing direct selling (selling of the company products) without recruiting. But "how much" a distributor can earn is not the issue of legitimacy of an MLM business. 
Here's another statistic to digest on: Of the people that do make money, the average YEARLY salary is only $2400. That's only $200 a month or around $17 a day!
Find out how I learned to earn up to $1,174.09 a day with my online business. 
It's FREE to try it for 7 days (No credit card required)
<<My Top Recommended Training>>
Oriflame Reviews: Pros And Cons
PROS:
Good tract of profitable years
Low Starting Investment 
Low annual membership fee
A wide selection of products
High-quality products
Open in many countries worldwide
 CONS:
Expensive products
Monthly Sales Quota 
Saturated market
MLM has a very low success rate
MLMs are commonly mistaken as pyramid schemes and scams
Needs a lot of time and effort in selling and team building
Focus on recruitment to maintain the position title and corresponding commission. 
Here's A Better Way To Make Money
I honestly hope that by now I've talked you out of doing the Oriflame Business. Oriflame and its products are definitely good.
In fact, I personally use some similar cream, I just hesitate to buy Oriflame product because they are too expensive. That's because there are a lot of people that will be sharing a profit from every single product sale. 
Unfortunately, doing the Oriflame Business will probably disappoint you as MLM is a broken money-making system and extremely hard to succeed with. 
Talking about my experience with at least 3 different MLM businesses over the many years of hard work, I know it's not an easy business model, especially if you don't like product demonstration tasks, direct selling, business presentation and bothering your families and friends over and over again.
If you're a person like me who prefers a more silent work atmosphere and can work anywhere and anytime, then you should check out Wealthy Affiliate if you still want to have an home-based and online business. 
Wealthy Affiliate is the best place to learn how money-making online works and it has taught me how to earn up to $1174.09 a day after 6 months of training and consistent work without living my home. 
It's completely free to try too! If you want to learn more, click below:
A Profitable Home Business Is Simple
If you have the right training, supportive community & mentor, making money online is easy. Click below and get all the three:
"Now he who plants and he who waters are one, but each will receive his own reward according to his own labor."
~1 Corinthians 3:8