Start A Blog Being Broke [Top 3 Websites]
Start A Blog Being Broke [Top 3 Websites]
Do you really want to start a blog but you are worried about sustaining the cost of blogging every month?
Blogging requires a reasonable time before you can see results. So, if you are one of the many people who are broke or not willing to invest a dime to start a blog, then, this post is for you.
Welcome to today's topic: "Start A Blog Being Broke [Top 3 Websites]"
When I started my blog in 2009 (also today), I was too skeptical in giving away my personal information especially my bank information. So, I just wanted to start a blog from $0.
Honestly, they are a lot of websites that offer a sub-domain site where you can start blogging for free. However, I'll be presenting you only the top 3 websites where you can get to start a blog for FREE – because obviously, you only need one.
But before we get started, I think we need to know the common expenses which are being associated with blogging. "
These are the following:
Web hosting
Domain name
Website theme
Plugins
Autoresponder
Paid traffic
So, can you really start a blog without spending a dime?
Sure you can… Let's get started.
Top 3 Website To Start A FREE Blog
Top 1: Wealthy Affiliate
Not only you can start a free blog at Wealthy affiliate, but it's also a training platform for anyone who wants to succeed online through affiliate marketing. Affiliate marketing is the best monetization method applied for blogging.
What makes this website as my top 1 is that they have a FREE starter membership wherein you can stay as a free member as long as you want. You don't even need any credit card info – just your email to get started.
Wealthy Affiliate is using siterubix.com for the free website. As a free member, you'll be going to have 7 days access to premium services – such as coaching, premium training and a lot more.  And after that 7 days, your access will become limited access but you can stay as a free member as long as you want.
This is what you'll be starting with when you sign in.
Online Entrepreneur Certification: Getting Started: 10 lessons
Affiliate Bootcamp: Getting your business rolling: 10 lessons.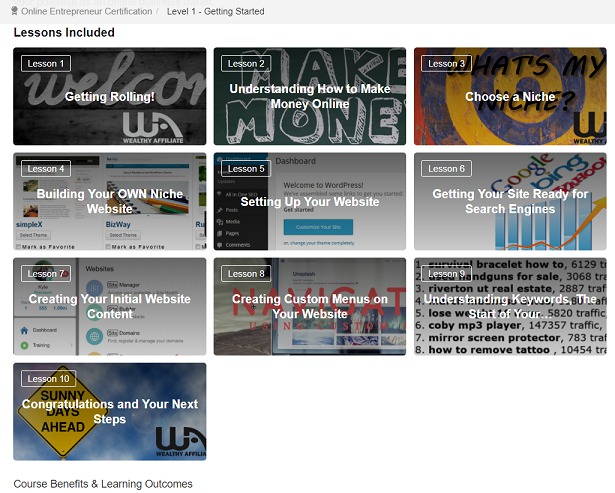 Most of the successful members at Wealthy Affiliate started as a free member (including myself) and eventually upgraded to premium.
Let me tell you a secret… all premium members can actually earn inside the platform just by reading and commenting on websites. Some people earn their membership payment back just by doing this.
So, click here to start your free blog now or click here to read my comprehensive review on Wealthy Affiliate where you can start from $0.
However, since Wealthy Affiliate is one of the most secured training platforms you can ever find on the web, not all countries are then eligible to get a free membership.
These are the countries excluded from free membership:
Bangladesh
Egypt
Ghana
India
Kenya
Morocco
Nigeria
Pakistan
Philippines
Vietnam
Don't worry if your country is listed above. The next two on the list are your next best alternatives.
Top 2: WordPress.com
WordPress.com is my next top recommendation for starting a blog for free. Their free plan includes community support and access to many website themes.
I love WordPress. In fact, I made this website through WordPress. It is very easy to use provided that you have all the necessary step-by-step guide like you can have at Wealthy Affiliate.
The training and resources are limited but you can just search for any tutorial you need for example on Youtube in case you need visual help instead of taking time to ask in the WordPress community.
These are the benefits of a starter member at WordPress:
WordPress.com subdomain
Jetpacks essential features
Community supports
Dozens of free themes
Basic design customization
3GB Storage space
WordPress.com advertising and banners
Wealthy Affiliate offers much more than WordPress can offer for Free.
Start your affiliate marketing business now. Earn while learn and build your passive income online. 


Top 3: Blogger.com 
Blogger.com is owned by Google. It's very popular before. This was the first free blog I ever started with. However, its popularity has dipped in recent years.
Blogger.com is more to a solid solution for personal blogs than for professional use.
It works just like any other platform.
Create an account (Very simple)
Pick one of the default themes
Start writing on your blog
This platform has an interface very similar to a GooglePlus profile and the editor looks like a Word page. That makes it easier for people who know Google+ and using Word doc already.
What makes Blogger.com as my top 3, is that it delivers a bunch of themes to choose from. Each theme provides different skins, advanced color filtering and various minimalist gadgets (or the widgets).
Unlike WordPress, there is nothing too fancy and any advanced design customization with Blogger. Therefore, it has very simple appearance options and the main focus stays more on the writing part.
Another great thing about Blogger.com is that it comes with Ad spaces that you can place within your content pieces.
I stop using Blogger.com at that time because there is no useful training at all inside it.
And after many years of trial and error, I met Wealthy Affiliate and I never look back again. Check it below.

Final Thoughts…
Today, I love working for my own business from home. Leveraging blogging through affiliate marketing is a type of business has made many people a huge fortune. While others are earning around $10,000/month and this is what I'm doing and I love it.
There are many reasons why you should use this concept too to earn a full-time income from home. And these were my reasons when I started with this business.
I can earn money with any product I want on the internet
Unlimited earning potential
No face-to-face or direct selling
No face-to-face rejection
No networking
No recruitment
No inventory
No administrative work
Very low investment
I can work entire just with my laptop and the internet.
I am my own boss.
Scam protected
I can earn Passive Income online!
So, if you are a shy person like me that is not a fan of product demonstration or presentation, public speaking and certainly not a fan of recruiting your families and friends just to earn, then this is the best business for you.
Start your affiliate marketing business now. Earn while learn and build your passive income online. 


I'm looking forward to seeing you and guiding you in this awesome community. See you on the inside.
This is the end of today's topic: "Start A Blog Being Broke [Top 3 Websites]".
If you have any thought or question, please don't hesitate to leave a comment below. Good luck with your journey to financial freedom online. God bless!
"Now he who plants and he who waters are one, but each will receive his own reward according to his own labor."
~1 Corinthians 3:8