I created this list for myself to send to people when they ask, "Does WA really work?". Originally, I wanted to limit the listing to posting "big" success stories of full-time income, big paydays, or other impressive things like traffic stats. Eventually, I began adding inspirational and interesting posts as well as the "small" money stories – because that's where everyone starts.
If you want to see my own success story and how I do it, you can find it here.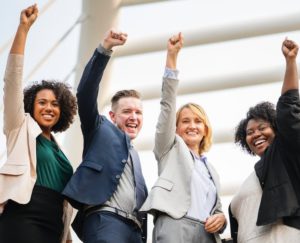 These success stories are from 2018 and 2019. It's surprising that this list became so long compared to the list I found from WA success stories from 2017 beyond (Is Making Money Getting Easier In 2017 And Beyond?).
Those are just the stories I find in my daily WA browsing. I'm sure a lot more stories went unpublished to protect their privacy, or I didn't even see them.
This list is being updated every now and then.
Success Stories at Wealthy Affiliate
2019 Earning Money Online!
$3,700+ in 1 day from Affiliate Earnings 
$12,000 For Christmas 2019 (+ Actionable Advice)
I Have Arrived In VEGAS: See My "Executive" Room!
Officially a Six Figure Business – 2018 Year End Report
December 2018 Income Report – 540% increase in revenue
Year End Report, Made $1,000 profit
December 2018 – $1,738 Dollars & Growing!
My 2018 Travel Niche Results and the Year Ahead, Bring on 2019!
Blog Income Report 2018 – over 5K Online
My Blogs Earned Over $100k Part-Time in 2018
Over 60 and achieving online success!
3 Years at Wealthy Affiliate – paving the way to success
528 People Had a Party on My Site Over the Weekend!
2018
Big Money Stories
$2,549 in 1 day from 1 lead from 1 passive income stream
900 Referrals in a WEEK! Damn, this is sick!
Made $7,395 in a WEEK: First Black Friday Results!
Officially a Six Figure Business – 2018 Year End Report
What A Year Can Do: 2017 $374 vs 2018 $3,870 Black Friday Results
$15,765.97 Earnings For Month of November
A Very Humbling $12,803.26 Month – August Progress Report
Another Great Month – July Progress Report
$6.2K Month – October Monthly Update!
99 Premium Referrals in a Month – AUGUST Monthly Update!
Jul'18 Results: $4,373! It's Amazing How Fast Income Can Rise!
$4.7K Month – SEPT 2018 Monthly Report!$4.7K Month – SEPT 2018 Monthly Report!
$3.2K Month – July Monthly Update!
More Progress: December Revenue Goal Exceeded
Jun'18 Results – $2.9K Woohoo!
How Much Can A Single Review Post Make? – Five Figures!
Aug'18 Results: $4.9K! This Online Business Amazes Me!
2 Year Analysis: Update & Sneak Peek
First $75 Day In Affiliate Marketing
First $1000 Month In Affiliate Marketing
Joined the 10K Per Month Club. January Earnings $13,481.39
It's Been 2 Years & 2 Months In WA. Finally, Quit My Job. Yayyy!
I Sold a Very Big Ticket Item With My Website. Hundreds of Thousands of Buckeroonies!
How I Earned $9465.05 Thanks To WA Members
I got a $650 Sale with $50 monthly recurring!
$425 worth of web updates yesterday.
ShareASale & January Progress update
Made $489 Yesterday! Great Start to March!
$125 commission immediately on one purchase on new site
Sold My First Blog For $28,000 After 13 Months
My Past Caught Up To Me & Paid Me $1828.05!
Amazon: I Am Lovin' It! (My Biggest Sale So Far)
Sales today adding up to $230! Yowza, I'll take it!
5 Years Ago Today I Made My First Income Online
Is It Possible To Make Five Figures A Month?
$2503.14 In Commissions So Far & Counting!
My First $ 1,000 From The Site
Newbies Pay Attention! $5,195.20 Affiliate Check for June: Thanks WA!
Just sold two sites for $9,000!
Thanks to WA our companies are taking off!
$3 Short of $8K – My First Progress Report
Happy 4th July – $500 in 7 days!
Finally Earning A Passive Income! WOOT WOOT
$17,000 from one blog post over 2 years.
$500+ thanks to Wealthy Affiliate Training!
Turning Zeros Into Dollars Takes A While, Even For The Pros
Another Great Month – July Progress Report
How An Old Disused Website Can Make Three Figures In A Week!
$100+ In One Day! My First Time!
New commission record $2,000+ in 1 day
How to Make Money with Wealthy Affiliate? A $150,000 Way!
My dream has come true, I am finally living my laptop lifestyle.
What Commission Growth Looks LikeWhat Commission Growth Looks Like
A Very Humbling $12,803.26 Month – August Progress Report
Sold My Movie Blog for $3000 on Flippa!
Email Contact Marketing – $714 for 10 min "work"
Biggest Influencer Job To Date – R12 000: Bring It On!
$2,549 in 1 day from 1 lead from 1 passive income stream
My first $700 commission, first $2000 week
My first $1,000 Month. Cheers to a wonderful October.
4 Figures in 1 Year. Finally! (Quick Update)
2 Years at Wealthy Affiliate – Love love love it here!
Small Money Stories
I am seeing money come in, and YOU can too, 3 steps
Got My First Payment From Google Adsense
I made my first 2 sales! $48.99
I Made My First Sale In Amazon!
12 Months + progress – Money Beginning to trickle in
Yay! 5 sales and $10 on Amazon yesterday!
A New Milestone for My Amazon Niche Site
A Picture speaks a Hundred Bucks.
My Amazon Sales are Picking Up!
Less than 10 searches, but it's bringing in money
First $75+ Day In Affiliate Marketing!
Yeeehaaa! My 3rd Sale On My Dive Site
Does WA Work? Here is Proof my Amazon Commission
[WA Works] Surprise, Surprise! A Hidden Success!
One Year At WA Statistics + How Much $ I Made So Far!
My Annual Wealthy Affiliate Costs Are Covered!
Wealthy Affiliate – Does it Work? A Newbie's Success Story
June 2018 Updates- Sales From Amazon
My first, VERY small profit. But a start!
First Adsense Payout ($150) and almost 30% was taken. Yaaay
Cha-Ching! 7 New Shopify Sales!
I Did a Thing! First Amazon Sale
Woke up to my first sale – Today is a good day!
Huge Rise In Traffic From Google Adsense
September Commission are in – Money pouring right in, slowly!
First USD 51.98. Be Like A Proton, Always Positive
I believe I have my first sale!
Wow! I Finally made some Money.
Just Made My First Sale On 6 Months Mark! Happy!Happy!
Made My First Dollars While on Vacation
First sale from my website! CHA CHINGGGG
First $ I see! This just got REAL!
Not Money Related, But Worth Reading
Amazing results of Jay's training on Google My Business!
I have WA's training to thank for this: my IG featured in Buzzfeed
Watch Out Vegas, littlemama's Coming To Town!
Target accomplished – 1,000 Unique visitors
I have now been with Wealthy Affiliate for 4 years!
Email Marketing Strategies & Trends for 2018
So, This Just Happened (For The First Time)
Proof You Can Run Your Online Business From Just About Anywhere
I Want To Make Money NOW (or I Quit!)
More than 500 unique visitors for 4 days!
The most AMAZING thing just happened
I've Been with Wealthy Affiliate for 11 Years!
my website is on the first page of google now, holy moly, it must be an error
The Power of Wealthy Affiliate Blogs
It's True When You're Passionate About Your Niche You Can't Stop
An increase of 5,000 viewers in one day!
6 years Later & Why I Owe Most of My Success to Wealthy Affiliate
How To Create a 6 Figure Website
Sudden Spike On A Forgotten Niche Website
1 On Google – It only took 10 months!
Why I left WA. and why I'm back better than ever!
The Day Has Finally Come. We Hit 1K Monthly Visitors!
Happy 4th anniversary from Wealthy Affiliate
64 Monthly Views on Pinterest to 2,467 in one Month
Wow, Four Year Anniversary at WA Today!
78 Visitors on My Site Right Now
I Had Dinner With Google Last Night
I Had Dinner With Google Again – Info on Rankings
Finally – my 50th post on my niche site!
How Much Money Per Hour To Write?!?!
Google page 1, position 1 + a new client for my Virtual Assistant biz!
Thanks to the training at Wealthy Affiliate- My longest post!
3 Years at Wealthy Affiliate (My Online Journey)
Can YOU Actually Become an Authority Online?
Wealthy Affiliate Improvements!
The owners of Wealthy Affiliate, Kyle and Carson, introduce so many cool tools each year, I want to keep track of everything to look back on how far WA has come. In 2017 alone they introduce SiteContent, SiteSpeed, SiteSSL, Jaaxy integration, and SiteProtect!
This won't be a comprehensive list. They tend to roll out lots of small updates over time. This will just be the big announcements they post on their blogs.
Jaaxy Update: Better Integration & Improved Keyword Management
A Brand New Blog Experience at WA Marks the Beginning.
Introducing The Brand New WA Experience. This is BIG.
How to Automatically Compress Images for Website Speed
Wealthy Affiliate is a Teenager. Much Has Changed.
SiteComments 2.0 – A Significant Upgrade Has Been Released!
Wealthy Affiliate Has Gone Mobile!