Have you ever heard of Webtalk lately? Well, this is because it is the newest social media network that rapidly grows due to profit-sharing potential to its members (talk about this more later).
But how does it work? Is there any catch? What really is in it? So, let's make a short Webtalk Review (Beta Version) and let's see if this new social media is the one which will change the profit-sharing practice of social media industry or if it will potentially replace them all.
I saw Webtalk several times on the other social media and I was considering to make a review…. sooner enough one of my friends invited me to join by sending his own review post. Pointing out that – you need to join as early as possible because it is still in Beta Version. With a big smile… then I thought.. aha! this must be really trending.
So, I joined out of curiosity and it's because (1) it sounds great about the profit sharing, (2) it's FREE and (3) the Webtalk is currently by invitation only.
Yes, currently it's only via invitation so you can not just Google Webtalk and create an account. And just in case, well – IF- Webtalk becomes one of the biggest social media networks, you'll be benefitted from it.
So, here is my personal invitation – you're more than welcome to join my network. Just Click the button below.
And this is the landing page when you click the invitation.
You can view my profile here.
WebTalk Review (Beta Version) – Latest Social Media Replacing Facebook?
How Does Webtalk Work?
At this point, all you have to do is join and refer your families and friends TO EARN, but you've got to be quick. This is a limited BETA membership, therefore, you got to sign up early to enable earning from the program.
Why? You have to be amongst the first 1,000,000 members to sign up and help grow Webtalk's community by simply referring. In return, members will receive a 50% revenue share FOR LIFE!
So, invite your FRIENDS before they invite you.
To explain better how Webtalk works – watch the video here. It's just a 6-minute video that shows how this could be powerful and could potentially replace any social media out there today.
Webtalk – What Really Is In It?
Webtalk is another social media but it allows you to segment your contacts right away- professional and personal.
It is currently totally free, but some paid services will be available just like other social media and e-commerce (advertising, premium upgrades, transaction fees, etc.).
Webtalk will reward you a commission if your referral spends money on any of these paid services.
There are a couple of features that Webtalk is going to offer but no other social media platforms proactively offer.
LinkedIn Plus "Like" Personal Network
Webtalk allows you to create multiple lists of networks, unlike with any other social media accounts, you only have one set of "friends" or "followers". This means that you can choose to access their personal data only – either personal or professional data only – OR both. "Data" as in news, photos, videos, files, and profile.
Webtalk seems closely like the LinkedIn because it's primarily business user-focused by the looks of it.
However, with LinkedIn, you wouldn't add your friends & family to your network, nor would you post a photo of "party last night". LinkedIn is not the right place.
Wherein your Facebook "friends" include your real-life friends, "Facebook-only" friends and business relationships altogether in one place. Whatever you publish on your Facebook timeline is visible to every "friend" of yours, unless you specify who can see it individually.
With Webtalk, you can publish your leisure-related posts ONLY to your friends, business-related posts only to your clients, work-related posts to coworkers, etc. RIGHT AWAY.
Still arguing why would you need another social media? Well, FACEBOOK cannot be beaten right now! And everyone is happy by using different platforms wisely. Well, that's true – but remember nothing is permanent.
Webtalk will come in very useful once it becomes popular. It's very achievable if the users – you and me- keep spreading the words, and this is our chance to be a part of the monetary rewards it offers.
The Beta Version
Beta Version means that the website is undergoing a lot of improvements and it's not totally live currently. So, you will probably notice that there's no FAQ page, no Help Menu yet, certain features don't work yet etc. Support team might not be so prompt to respond. However, the owner/founder himself, RJ Garbowicz, assures that his team is working on them currently.
Monetary Rewards
As mentioned earlier, Webtalk will be giving a referral commision to its members. This Affiliate Referral Program is called Social CPX. The compensation plan pays out up to 5 tiers, it's a very similar source of revenue that Facebook generates. The BIG difference is – Webtalk shares their revenue with YOU if you join up as a BETA USER.
I'm personally not a fan Multileverage Marketing (MLM) Schemes. But this one is FREE and social media is different as it is used by almost everybody today. So, probably the Webtalk's Social CPX system has the fairness, growth and earnings potential – So, better be one of the pioneers – Nobody knows but time – if this will work – Anyways, it's FREE.
Webtalk is aiming to develop a FACEBOOK-LIKE advertising platform and LINKEDIN-LIKE premium membership feature, so its primary revenue will likely to be collected from the users. BUT, as a BETA member – you will join the profit sharing.
The 5-level referral commissions mean that if any of your referrals and their referrals up to 5th level decides to take a premium subscription (starting $30 per month), you'll receive 10% residual commission while they're subscribed.
Other commision rates including:
Promo Ad Commission – 2-9% will be paid out to you if your referral buys from an advertiser via "Buy Now" ads.
Digital Service Commission – 5% will be paid out every month if your referral purchases a monthly service from a third party ad.
Market Place Commission – 1% if your referral shops from Webtalk's Marketplace or App Store (in the future).
All your commission stats can be viewed on SocialCPX – it is a separate website. SocialCPX is currently disabled, because of the BETA version/stage. When it's ready your current affiliate records will automatically be transferred. For now, you can track your referrals on your Webtalk platform.
"Invite them before they invite you" slogan makes only sense – IF- Webtalk becomes successful. You'll want to be the one who's close to the top of the tiers, right? You'd want to refer your friends and acquaintances before they'll be invited by someone else.
In order to receive Webtalk's 50% Lifetime revenue share, you – as a member – need to fully complete (100%) your profile.
The purpose of completing your profile stipulation is purely to generate trust and stop Scammers spamming the platform. A recommendation can only be written once the profile sections are completed. You can always hide your personal data and choose who can only view these.
If you happen to be in my network already – on social media or Wealthy Affiliate. I can write you a recommendation if you wish to. Just give a message and I will be more than happy to do that.
IMPORTANT: Once Webtalk goes live, the Beta Membership stops and only completed profiles will be involved in the 50% lifetime revenue share.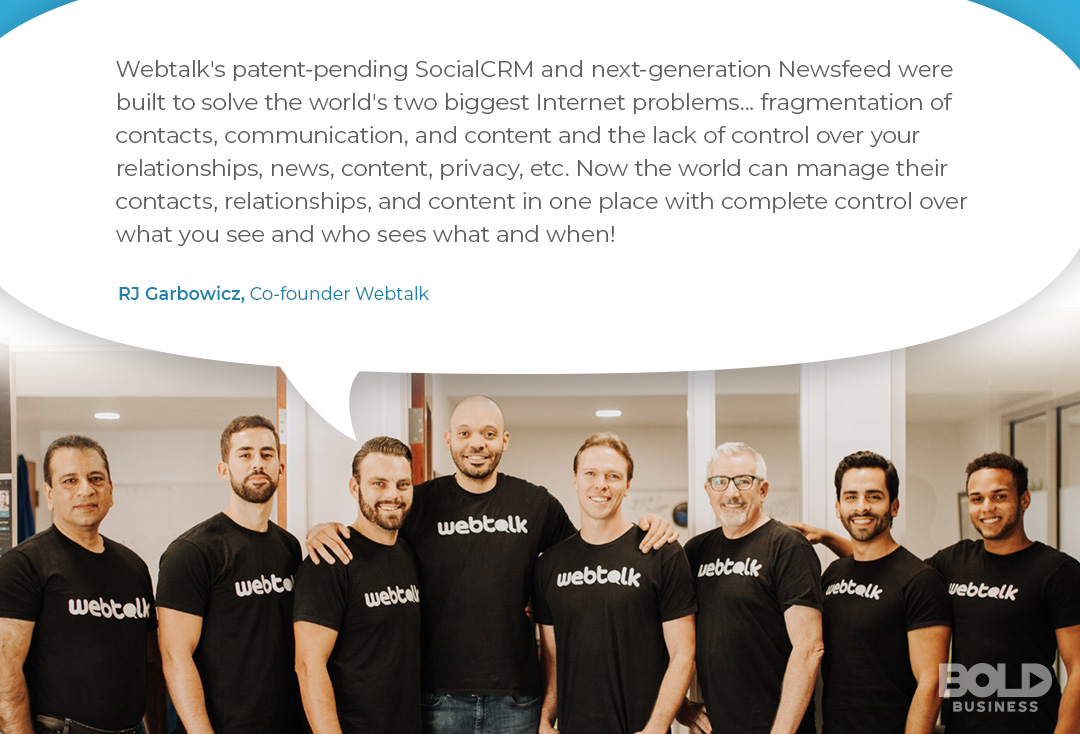 Short Conclusion:
Product Name: Webtalk
Website/Landing Page: Sign Up For free Here
Owner/Founder: RJ Garbowicz
Program Type: Social Media
Price: FREE
Ratings: 95/100
Recommended?: Yes
If you are sick and tired of scams, don't forget to check my #1 recommendation on how to earn passive income online through affiliate marketing. Click the button below.
I hope this WebTalk Review (Beta Version) has enlightened you with any doubt you had. If you have any question or thought, please feel free to leave me a comment below. Good luck with your journey to financial freedom online.