Chinese Herbal Products? Then Infinitus is one of the leading direct selling business in different kinds of herbal products from China.
But why it is popular probably because of its business in nature and its marketing plan. In fact, it is a worldwide known business offering an opportunity for home business.
If you came across the Infinitus Business Opportunity and in doubt whether or not you should join them, then this post is for you.
In this post, I will be tackling about the most important things about the Infinitus opportunity like the company background, the product lines, the compensation plan, price of joining, pros and cons and a lot more.
Is Infinitus A Great Opportunity Or Just A Scam?
Ready to know whether Infinitus is the right business for you or not?
So…
Let's get started… 
What is Infinitus? [A Great Opportunity Or A Scam?]
Table of Content
Infinitus Reviews: Summary 
Company Name: Infinitus
Joining Price: $24
Rating: 25/100
Recommended: No 

Summary: Infinitus is a Multi-level Marketing (MLM) Business selling Chinese Herbal Products.
Infinitus is definitely a legit company with quality products, but if you need a home-based business, then this is not the best opportunity that I can recommend. The main reason is that MLM business has a very low success rate.
If you are interested in a home-based or online business, then you need to check out Wealthy Affiliate. This is the single best place to learn how to build a profitable online business. This is also where I learned to earn up to $1,174.09 per day after months of training.
The best part? It's free to try! Click below to learn more:
<<My Top Recommended Training>>
Infinitus is an international multilevel marketing company that focuses on selling Chinese Herbal Products, under the LKK Health Products Group (LKKHPG).
LKKHPG is part of the century-old Lee Kum Kee Group, which is a large-scale enterprise specializing in R&D, production and sale of Chinese herbal health products – employing over 3000 people from  Infinitus China, Hong Kong & Malaysia. 
Since 1992 where Chinese division was established, they already have 36 branches, 28 service centers and nearly 5000 exclusive stores in Mainland China. 
Infinitus is obviously very popular in the Asian Market. In fact, their Global Headquarters are mostly based in Asia- China, Hongkong, Malaysia, Taiwan, Singapore, Thailand, and Philippines. While they only have one Headquarter based in Canada.
Lawsuits: 
Since Infinitus is originally based in China, there is limited information about an eventual or previous lawsuits again it.
However, I found a single post from BestChinaNews From 2017, alleging Infinitus health products as a Fraud, who scammed a lot of elders in China – among the others are retired teachers. Moreso, the post contains stated side effects of products from the users.
Infinitus Healthcare Products
Healthcare Products is a combination of Chinese medicines such as vitamins and herbs.
Beautrio
These are skincare products that promote clear and smooth skin made from modern technology of skincare and herbs of China, such as creams, cleansers, and whiteners.
Phytocare
Personal care product such as shower cream, toothpaste, conditioner, shampoo, breath spray, etc. These products come with natural components and Glycoside.
Homemade
These are homemade household products such as Laundry detergent and dish wash detergent These detergents are made from herbal plants.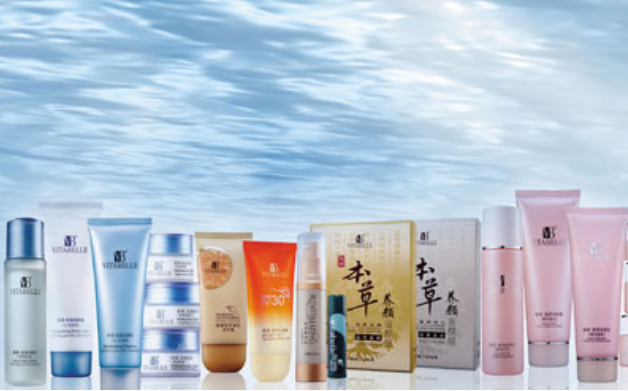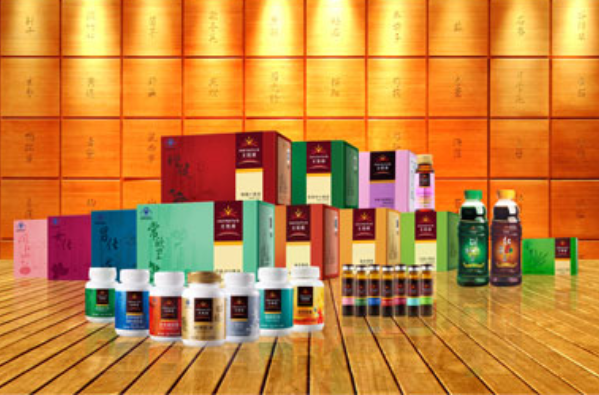 Infinitus Review: How To Join?
Infinitus Compensation Plan
Infinitus Marketing Plan or Compensation Plan is quite complicated to understand.
There are two primary ways to earn money with Infinitus:
Direct Selling on Retail
Recruitment
Technical Terms in understanding the Infinitus compensation plan when they talk about the sales volumes:
PPV – Personal Volume
GV – Group Volume
OV – Organization Volume
These volume sales requirements are similar to any other MLM payout system.
Infinitus Basic Sales Bonus: 2-10%
This commission is based on the sales volumes from direct selling you can earn from 2% up to 10% according to how much you and your group generate. 
The more you sell, the higher the commission percentage. If you sell 1000 then, you'll get 2% of it, which is CA $20. If you sell 10,000, then you'll 10% of it, which is CA $100. 
Infinitus Extra Sales Bonus: 12%
In this commission plan your group need to generate a minimum of 10,000 GV in both legs (Leg A and B). Then you will get 12.5% as your commission. You will not get anything below the required GV.
Infinitus Performance Bonus: 1.25 - 6%
This bonus will be based on the OV of 10,000 and above where you'll get 1.25% and the commission can increase up to 6% if you can sell up to 4.5 Million in your organization. 
The computation of this payout depends on the leg sales. For example, if your leg A has a 10,000 OV then you get CA $125 (1,25%) for that leg. But if your leg B has 4.5 Million OV, then you'll get $54,000 (6%) for that leg. 
Infinitus Leadership Bonus: 10.5%
This bonus depends on the number of people with "leader" ranks in your group and their group sales volume. 
Each level (up to 9th level) should accumulate at least 10,000 GV in order to qualify to this bonus. If you have leaders in each generation level, you'll get a 10.5% bonus. 
Infinitus Market Bonus: 1.1% of Global Revenue
Each month, Infinitus is sharing a 1.1% of its total global revenue to the qualified distributors. You can earn from 0.1% up to 0.5% for each leg that qualifies. 
In here, the higher your sales volumes, the lesser your bonus you get. 
Stable Growth Bonus: 0.5% 
Requirement: PPV 500 and 100,000 OV of at least 2 legs.
Excellence Bonus: 0.3% 
Requirement: PPV 500, one leg with 4,500,000 OV plus another leg with a total sales of at least 2,250,000 OV. 
Brilliance Bonus : 0.2% 
Requirement: PPV 500, total sales of 4.5 Million, 5 legs with at least 500,000 OV each. 
 Outstanding Achievement Bonus: 0.1%
 Requirement: PPV 500, total sales of 9 Million, 10 qualified legs with at least 500,000 OV.  
A Profitable Home Business Is Simple
If you have the right training, supportive community & mentor, making money online is easy. Click below and get all the three:
Infinitus Ranks
Below is the position ladder in doing the Infinitus business. 
Intern Sales Supervisor
Sales Supervisor
Senior Sales Supervisor
Intern Sales Manager
Sales Manager
Senior Sales Manager
Sales Director
Senior Sales Director
Chief Sales Director
 Below is the qualification list for each position.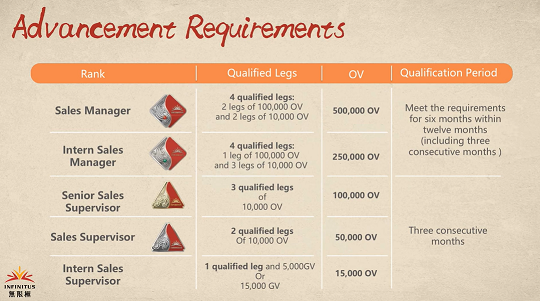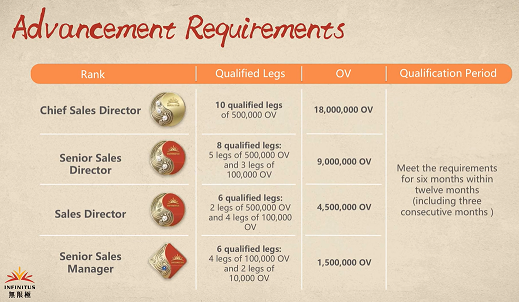 Why Is Earning A Full-Time Income With an MLM Business Too Hard?
I have seen many MLM businesses and tried 3 MLM businesses in the past many years. I can say that the Infinitus marketing plan is not extra special. In fact, it is one of the complicated and confusing ones.
Direct Selling and multilevel network marketing businesses offer a generous compensation plan. However, if you look closer, these incentives and payout systems are not that easy to achieve for an "ordinary person".
What are the major things that can make you say yes to an MLM business?
An overwhelming compensation plan that looks so easy.
A nice presentation that you'd think everyone in your team will work hard
You just can't say "no" to the person who invited you
If you join an MLM business for just any of the reasons above even though you know that:
The company has an expensive starter kit, membership, and products.
You hate recruiting.
You hate talking about the same thing over and over again.
You hate public speaking.
Then, you will definitely fail!
If you want to succeed with an MLM business, make sure that you are ready to work hard and even harder in both direct selling especially with recruiting. Plus, you need to be ready with all the communications and administrative tasks in building your organization in order to earn at least a full-time income.
Okay…
Let's say you want to earn a full-time income ($5,000 per month before taxes) with Infinitus.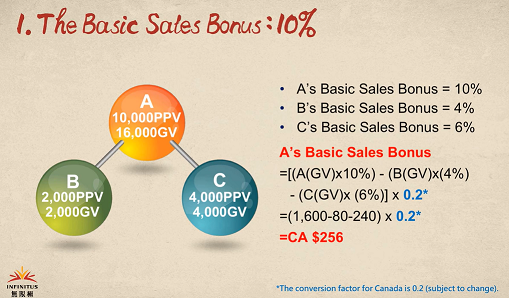 In order to earn a decent $5000 per month (before taxes), you need to sell a LOT.
Using The Basic Sales Bonus of just 10%, if you can generate $100,000 a month, then you can probably earn it. But let's do the math using the sample computation above by putting an exponential number of ten (160,000: 20,000: 40,000).
160,000 x 10% = 16,000
20,000 x 4% = 800
40,000 x 6% = 2,400
(16,000 – 800 -2400) X 0.2
= $2,560 
Apparently even if you sell 10X of the given example, achieving $5000 per month will not be enough at that level of direct selling.
I must point out, the above computation is for simplicity purposes only. Infinitus has a comprehensive yet complicated compensation plan that gives different types of bonuses or commissions the more sales you generate for your PPV, GV, and OG.
Well, let's just pretend the $2,560 is enough as your full-time income. Yet, to generate $160,000 or almost $2 Million a year is not that easy with an MLM business.
This why people inside the MLM business tend to focus on RECRUITING because that's where the money at. And recruiting is not an easy task when you talk about network marketing business as people tend to think it's a pyramid or scam. 
How Much Do People Earn With Infinitus Business?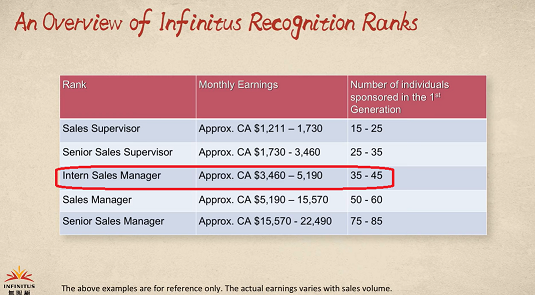 If you need a monthly income of around $5000, then you need to be an Intern Sales Manager.
Looking at the above image – an income disclaimer from Infinitus – an Intern Sales Manager earns a monthly income of approximately CA $3,460-5,190. An Intern Sales Manager has around 35-45 sponsored people in the 1st generation (direct recruit).
Take note that the requirements of this position (intern sales manager) are 4 qualified legs: 1 leg earning at least 100,000 OV and 3 legs earning at least 10,000 OV. Plus you need to maintain a 250,000 OV in 3 months within 6 months. 
That's a lot of recruitment and empowerment public speaking that you need to be a part of. 
Why public speaking?
Most of the people who join MLM actually expect their uplines to do all the sales work. Little they realize that this mindset is actually the one killing the team – the idle members.
MLMs are not quick rich schemes – it's a real business that requires an enormous effort of selling tasks and team building, just to name the few.
Honestly, you'd be better off if you build your OWN business than joining an MLM business. Read on why…
Only 1% Make Money With MLM Business 
So, why are there only a few people who make real money with MLM?
Because it's designed that way!
Only people on the top get rewarded (1%) and the people at the bottom lose money (up to 99%) with an MLM business.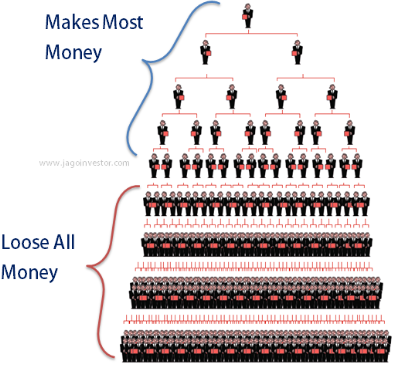 Unfortunately, this is how MLM business works.
The further down you are in the team, the more difficult for you to earn money.
An MLM business becomes only legit when the company can give a legal argument that members can earn commissions by doing direct product selling without recruiting. But "how much" a member can earn is not the issue of the legitimacy of an MLM business. 
Here's another statistic to digest on: Of the people that do make money, the average YEARLY salary is only $2400. That's only $200 a month or around $17 a day!
Find out how I learned to earn up to $1,174.09 a day with my online business. 
It's FREE to try it for 7 days (No credit card required)
<<My Top Recommended Training>>
Infinitus Reviews: Pros And Cons
PROS:
Cheaper annual membership fee compared to other MLM businesses
Long years of tracked success
International company
 

CONS:
A limited number of countries available
Monthly Sales Quota
Saturated market
MLM has a very low success rate
MLMs are commonly mistaken as pyramid schemes and scams
Needs a lot of time in team-building
Focus on recruitment to maintain the position title and corresponding commission.
Here's A Better Way To Make Money
I honestly hope that by now I've talked you out of getting into the Infinitus.
Infinitus is indeed a good company with high/quality Chinese products.
Unfortunately, MLM is a broken money-making system and extremely hard to succeed with and I will never try to waste my time and energy again with any MLM Business, yes – not even Infinitus.
Talking about my experience with at least 3 different MLM businesses over the many years of hard work, I know it's not an easy business model, especially if you don't like product demonstration tasks, direct selling, business presentation and bothering your families and friends over and over again.
If you're a person like me who prefers a more silent work atmosphere and can work anywhere and anytime, then you should check out Wealthy Affiliate if you still want to have an home-based and online business. 
Wealthy Affiliate is the best place to learn how money-making online works and it has taught me how to earn up to $1174.09 a day after 6 months of training and consistent work without living my home. 
It's completely free to try too! If you want to learn more, click below:
A Profitable Home Business Is Simple
If you have the right training, supportive community & mentor, making money online is easy. Click below and get all the three:
"Now he who plants and he who waters are one, but each will receive his own reward according to his own labor."
~1 Corinthians 3:8