What if I told you that you can become a millionaire after one year if you'll give me $37?! Or you can make 7-figures JUST under 30-days?
Hmmm… I hope you'll not think twice! You know it's too good to be true and it's probably is.
Welcome to my "Million Dollar Replicator Review: Scam Exposed!".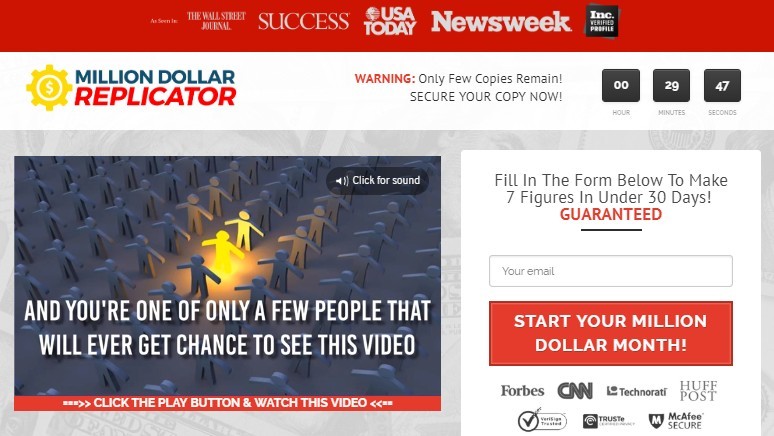 I'm glad you're doing your research on this product.
That's how you can about avoid scams – do your research before diving into any online opportunity.
There are literally hundreds and thousands of online money making opportunities you can find online nowadays. Everybody wants to earn extra money or make a living online to enjoy financial freedom.
The problem is, there too many scams, poor system, and craps opportunities all over the web. Sadly, there are a lot of people who fall into the hole of scams.
I have made several reviews and exposed some scams and poor programs – like Explode My Payday and CB Passive Income. And this Million Dollar Replicator is one of the latest similar programs.
Million Dollar Replicator Review: Scam Exposed!
Review Scope:
Million Dollar Replicator Review Summary
What is Million Dollar Replicator?
How Does This Work?
5 More Scam Proofs
Verdict & Final Thoughts…
Other Options
Sick & Tired Of Scams?
Get My FREE Guide To Financial Freedom Online. Click The Button Below:

Million Dollar Replicator Review Summary: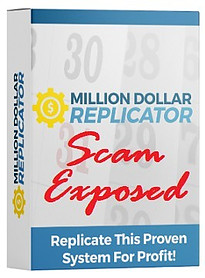 Product Name: Million Dollar Replicator
Website: milliondollarreplicator.com (Check it out here)
Founder: "Michael Sachs"
Product Type: Online Money Making Program
Price: $37 or $17 if you try to leave the page
Best For: No one but the owner's pocket.
Rating: 10/100
Recommended: NO

What is Million Dollar Replicator?
Million Dollar Replicator is another online money making program that promises you to earn a million within one year. On the sales page, you can also see that they promise you to earn 7-figures in JUST under 30-days.
This program promises you to earn money in a complete autopilot.
Do you see the clear signs of a scam?
Fast and easy
Quick results
Get rich quick scheme
Autopilot
The sales page uses the logo of CNN, USA Today, Forbes and other trusted sites to make an impression for you to believe that they are being recommended by these sites. Of course, it's a lie and I believe they don't have the rights to use this logos as well.
Let's find dig in deeper…
How Does This Work?
As soon as you pay $37, you will get access to this program. Oh, you will get it for $17 if you try to leave the page. Then you'll get an automated program wherein you'll only spend a few minutes a day and you'll a lot of money. Well, that's what they want you to believe.
But believe this program does NOT work as it advertised. Nothing and absolutely no program can make you 7-figures in JUST under 30-days for an investment of only $17!
5 More Scam Proofs
1. The Sales Page Countdown

This countdown is a lie. It will not really expire after that 03:38 minutes. Just refresh your browser and it will restart to 30 minutes again.
Another thing is the 10 SPOTS AVAILABLE – of course not! They want many people as much as possible.
They just want you to act quickly – so quickly that you might not even have time to think right over.
Still Can't Figure Out How To Earn Money Online?
Click The Button Below And Find Out The World's Best Program.

2. The Profit Guarantee

Right on the left side of the first sales page, you can clearly see a profit guarantee of 7 figures in under 30 days. However, looking closer to their Income Disclaimer, you can see a contradicting statement from the owner.
This Income Disclaimer is the owner's legal protection against any future complaints from anyone how you purchase this program.
So, if you are like a lot of people who are not ready the "small texts" inside the terms of use and disclaimer, then you could be highly exposed in scams or poor products and service online.
3. The Fake Owner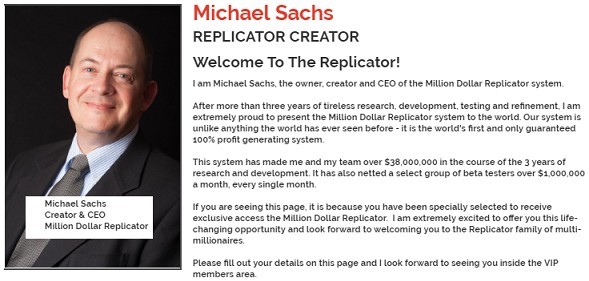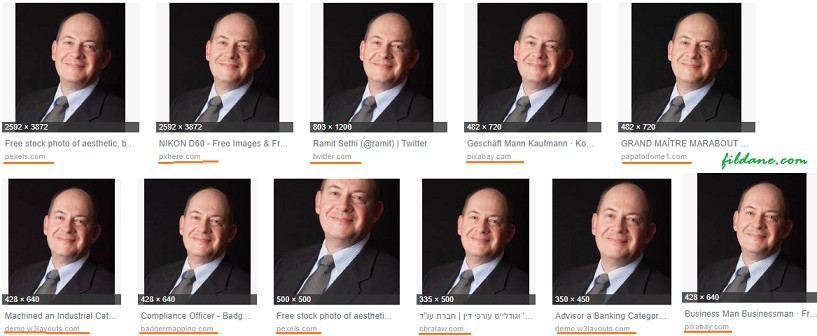 The owner in the name of Michael Sachs doesn't really exist. You can find this picture on several websites and free stock photo.
Notice that he also claims very unrealistic income results.
4. Fake Testimonials
Gordon Taylor from New York, Katie Price from Sidney, Australia and Arnold Larsmith from Los Angeles, USA are some of the faces you can see on the Million Dollar Replicator. These are fake testimonies with fake people behind every single word.
You can see from the images below that these pictures can be found on several websites and in different names. These are just a few of the images.
There are some things in common with these pictures- they are found on different social media like Twitter, Pinterest, google plus as well as on the sex dating sites with different fake profiles.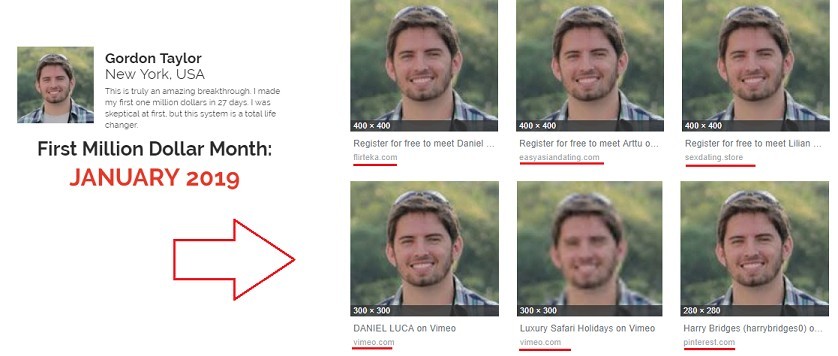 These people have never used the system and there is no way that their claims true.
Moreso, the testimonial videos are also fake. You can find them as well on paid service from the websites like Fiverr. You can also find the same video on their money making programs like Fast Cash Club.
5. The Real Cost
As mentioned earlier, this program will just require you to pay $37 or if you try to leave the page, you will get a special discount price of $17.
However, if you look at the affiliate page of Million Dollar Replicator, you will see that an affiliate could earn up to $450 per sale! Take a look at this.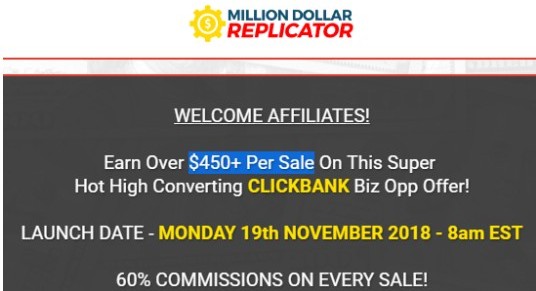 You can see an affiliate gets 60% commission of every sale. So, doing simple math – $450/60% means that this program can cost you $750+.
This simply means that the real cost is NOT ONLY $37 or $17. There are definitely a lot of Upsells within it. And the fact that the high priced upsells are not revealed on the sales page, I will absolutely mark a red flag.
Take note of the launching date: Monday 19th November 2018, yet there's a testimony dated July 2018!
Verdict & Final Thoughts…
So, is Million Dollar Replicator a Scam? Yes, absolutely. There is no such online money making system that can make you a million in just a year or a 7 figure income in just under 30-days.
There are seriously a lot of scams, craps and poor money making programs offered around the web. Million Dollar Replicator is definitely one of them!
So, can this really make you money online on autopilot? Obviously not. You will just get ripped off. Stay away from Million Dollar Replicator and similar programs.
Other Options
I love working for my own business from home. Affiliate marketing is a type of business that has made many people a huge fortune. While many others are earning around $10,000/month and this is what I'm doing. There many reasons why you should use this concept to earn a full-time income from home. And these were my reasons when I started with this business.
I can sell any product I want
The simplest and easiest concept for online business
Sure success as long as you keep going
Unlimited earning potential
No face-to-face or direct selling
No face-to-face rejection
No networking
No recruitment
No inventory
No administrative work
Very low investment
I can work entire just with my laptop and internet.
I am my own boss
Scam protected
I can earn Passive Income online!
So, if you hate product demonstration or presentation, public speaking and certainly not a fan of recruiting your families and friends just to earn, then this is the best business for you.
However, I know this business is not for everybody and there are some other opportunities rather affiliate marketing. So, I have created a list of the proven ways to earn money online.
Some of them are free and some of them require a little investment. You can earn a little amount of money instantly with some of them if that's what you need. Some of them can give a full-time income.
Start your affiliate marketing business now.
Earn while learn and build your passive income online.

I'm looking forward to seeing you and guiding you in this awesome community. See you on the inside.
This is the end of my "Million Dollar Replicator Review: Scam Exposed!". I hope this has enlightened you with anything you had in mind after reading it.
If you have any thought or more questions, please don't hesitate to leave a comment below. Good luck with your journey to financial freedom online. God bless!