UNSHAKEABLE by Tony Robbins Reviews – Achieve your goals fast.

UNSHAKEABLE Your Financial Freedom Playbook by Tony Robbins
Everyone deserves financial freedom. In my opinion, success is an active choice, wherein you must take that firm decision and make daily actions towards it. In my previous article – Changing Your mindset for Success – you can read more about how you can practically focus and achieve your financial.
One of the habits of successful people is reading books. Books on how they can gain more knowledge. They keep on learning and enriching their core of masterpieces. One of the bestselling books on how to achieve financial freedom is written by Tony Robbins. I made a review and research of this book below.
Review: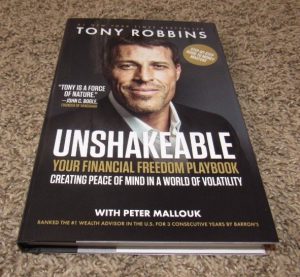 Book Title: Unshakeable Your Financial Freedom Playbook
Author: Anthony "Tony" Robbins
– One of the most recognizable life and business strategist guru.
– Robbins has coached more than fifty million people from 100 countries.
Number of pages: 272
Product Identifiers: ISBN 9781471164934; EAN 9781471164934
Cheapest place to buy: EBay.com
Publishing Types: Hardcover, Ebook & audio CD.
Price range: $7.99 – $22.56
Guarantee: 30 days
Rating: 9.8 out of 10.
More about the book:
In this book, Tony Robbins teams up with Peter Mallouk, which is the only man in history to be ranked the number 1 financial advisor in the U.S. for 3 consecutive years by Barron's. Robbins and Mallouk reveal how to become UNSHAKEABLE—someone who can not only maintain true peace of mind in a world of immense uncertainty, economic volatility, and unpredictable change, but who can profit from the fear that immobilizes and frightens a lot of people.
My favorite highlights in this book: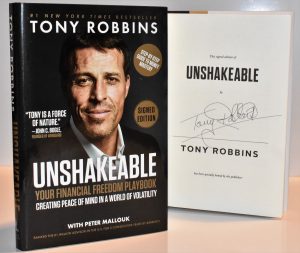 1. How to put together a simple, actionable plan that will deliver true financial freedom.
–>Reading this book will guide you to make financial plans to primary achieve your goal.
2. How a few simple steps can add a decade or more of additional retirement income by discovering what your 401(k) provider doesn't want you to know.
–> This will enlighten you on the importance of understanding your own retirement plan and eventually manage your own portfolios more efficiently and effectively.
3. Strategies from the world's top investors on how to protect yourself and your family and maximize profit from the inevitable crashes and corrections to come.
–> In this book, you will learn the different proven strategies whether the market will go up or down.
4. The fastest way to put money back in your pocket: uncover the hidden fees and half-truths of Wall Street—how the biggest firms keep you overpaying for underperformance.
–> You can actually save, a lot of money by discovering the hidden fees. This is very effective, informative and very eyeopening, especially if you are new to the stock market.
5. The core four principles that most of the world's greatest financial minds utilize so that you can maximize upside and minimize the downside.
–> These principles will definitely blow your mind.
6. Master the mindset of true wealth and experience the fulfillment you deserve today.
–> This book requires changing your mindset to achieve your financial goal and freedom. By reading this book, you will be more enlightened that our mindset is actually our most powerful tool in any goal we want to achieve.
Final remarks
I recommend this book to anybody who wants to achieve financial freedom. There are very few people who navigated the turbulence of the stock market as adeptly and successfully as Tony Robbins. His consistent and proven success over the past decades makes him most outstandingly qualified to help investors, both the experienced and first-timers in the stock market industry, preserve and grow their investments.
You will definitely love this book if you are looking for the phenomenal guide to stock market investing in the safest and simple ways. It is a detailed playbook perfectly designed for investors, who are articulated and have an intellectual common-sense, practical manner that the millions of loyal Tony Robbin's follower and students have come to rely and expect upon.
Great News:

If you buy this book, 100% of the profits are donated by the author to Feeding America and the 100 million more meals challenge! Imagine that you are doing yourself a favor and at the same time doing a charity to help a lot of less fortunate people. Feeding America's mission is to feed America's hungry through a nationwide network of member food banks and engage our country in the fight to end hunger.
Buy your own copy or buy it as a perfect gift:
As mentioned in the review, you can buy this book either in a hardcover, ebook or audio CD. You can buy this book the cheapest on eBay.com.
HARDCOVER COPY

EBOOK/PDF COPY

AudioCD

I hope you enjoyed the review of Unshakeable: Your Financial Freedom Playbook by Tony Robbins. If you have any great experience and feedback on this book, you can write them down on the comment box and I will be grateful to hear from you. Good luck with your journey to financial freedom and God bless.