Melaleuca Wellness Company is one of the biggest companies that offer a business opportunity by selling essential oils, cosmetics, personal care, household products and a lot more.
Interested in building a business with Melaleuca but still confuse whether or not you should?
Great! I'm glad you're here as this post is made for you. I'm sure you have a lot of questions about Melaleuca and good that you're digging more information about it before diving in.
So…
Is Melaleuca's business opportunity a multi-level marketing type or just a scam?
Welcome to today's online business review: "What Is Melaleuca Wellness Company? [An MLM Or A Scam?]"
I'm not associated with Melaleuca Wellness Company so I can assure a very honest and unbiased review throughout this post.
Ready?
So, let's get started… 
What Is Melaleuca Wellness Company? [An MLM Or A Scam?]
Table of Content
Melaleuca Reviews: Quick Overview
Company Name: Melaleuca Wellness Company
Price: $29 Sign Up + $19.90/per year + Up to $90 purchase per month (35 points) to remain as active preferred member. 
Founder: Frank VanderSloot 
Rate: 50/100 
Recommended: No

A Profitable Home Business Is Simple
If you have the right training, supportive community & mentor, making money online is easy. Click below and get all the three:
What Is Melaleuca Wellness Company?
Melaleuca is an international consumer-direct marketing company that sells environmentally friendly dietary supplements, cleaning supplies, and personal-care products. 
Melaleuca sells a wide range of products (400 products) that are very similar to Amway, Herbalife Or Nu Skin. They are claiming to be the largest online wellness shopping club.
Melaleuca, Inc. is founded by Frank VanderSloot and has been operating since 1985.  Vandersloot is a reputable entrepreneur, rancher, radio network owner and investor in Idaho, USA.
Even though Melaleuca is listed on several online MLM directories and Direct Sales Companies Lists – like this one, Melaleuca denies that it is an MLM business but rather a referral marketing business. 
I believe the main reason is that because MLM businesses are commonly mistaken as pyramid schemes or scams by people who don't know how an MLM business really works.
For me, Multi-Level Marketing (MLM) and Referral Marketing are basically the same. As a matter of fact, if you look at the definition of MLM on Wikipedia – it states this way:

There you go, MLM and referral marketing are the same. See the compensation plan below that makes Melaleuca as an MLM business.
The truth is, whether or not Melaleuca is an MLM business,  it's indeed a company with an impressive track of revenue records.
Melaleuca's Latest Revenue Reports:
Revenue 2015: $1,330 million
Revenue 2016: $1,750 million
Revenue 2017: $2,000 million
Revenue 2018: $2,100 million
Melaleuca Reviews: Legal Problems
Like most of the MLM Businesses and Direct Selling Businesses, Melaleuca, Inc. had faced some legal issues in the previous years.
1991-1997 – Melaleuca was investigated by Michigan regulators, the Idaho attorney general's office, and the U.S. Food and Drug Administration (FDA) for various marketing violations.
1991 – Melaleuca received a cease-and-desist order for violating Michigan's anti-pyramid scheme laws. 
1992 – Melaleuca signed a consent decree with the states of Michigan and Idaho agreeing to "not engage in the marketing and promotion of an illegal pyramid.
1997 –  the U.S. Food and Drug Administration sent Melaleuca a warning letter for "false and misleading" claims about two of its supplements. 
In a paper on multi-level marketing from 2011, the FTC notes that "Melaleuca fails to disclose that approximately 99% of all participants lose money and therefore get further behind financially because of their participation". 
Read more about this MLM paper from FTC here. 
Melaleuca Reviews: How To Join?
Becoming a Melaleuca member is actually a bit different. You can not register directly on their website because all new members are referred by other members.
So you need a referral by doing any of the following: 
Contact the person who referred you to the Melaleuca website to help you become a member.
Call 1-800-522-3172 if you happened to find Melaleuca through online research.
Enter Your Phone Number with area code and they will contact you back.
Melaleuca has two types of membership: DIRECT or PREFERRED memberships
​Direct Customer Membership (Free) 
This membership represents only less than 1% of all customers. These customers pay the full price which is relatively very expensive.
Preferred Customer Membership ($19.90 per year + $29 one-time) 
What makes the Preferred Customer membership popular among members is the perks that it offers. Having this membership type will enable you to enjoy 30-50% discounts at over 9,000 online retailers such as BestBuy, Home Depot, WalMart, Target, Expedia and many more. 
Aside from that, as you shop online, you will receive the Loyalty Shopping Dollars amounting to $100 ($120 CAD) that you can spend on Melaleuca Products. The catch?
You need to earn 35 points of products each month – that's around $60-$90 depending on the products you buy- in order to keep your preferred membership status active and enjoy the discounts.
I think this is pretty amazing. So, no wonder that Melaleuca is very successful over the years despite some legal issues in the previous years.
If you love Melaleuca products, I think it fine to join the company. BUT! if you want to build a business and earn a full-time income with it? Then think again, read on.
or…
Get started with the best training program in online business – this is where I learned to earn up to $1,174.09 a day. Try It FREE.
Melaleuca Reviews: Success Rate
Just like any other MLMs, generating a full-time income with Melaleuca is quite complex and far to be easy, even though it has a simpler compensation system.
There are 2 fundamental ways of earning money with Melaleuca: 
You earn commissions on the purchases of the people you referred. 
You earn commission on the purchases of the people referred by your referrals up to seven generation.
If you look at their Annual Income Statistics 2018, you'll notice the following "disturbing" facts. 
There are only 11% of all members who are business builders.
Business builders' significant work effort at 50 hours a week
Director/Director 2 level (working 50 hours/week) earn an average of only $2,101 per year! 
Director/Director 2 level – representing almost the 90% of all business builders. 
Director 8/9 Level – earn an average of only $33,958 per year and they represent only the 0.6% of all business builders. 
Let's assume that the $33,958 per is enough as a full time income for your household. The amount is gross amount, which means no taxes and other expenses being debited on it. 
If a director/director 2 needs to work 50 hours a week to earn an average of $2,101 per year, then how much work do you need to do in order to achieve $33,958 per year then as a director 8/9? 
Computation of the real success rate: 
From the 2011 data – there Melaleuca reported around 800,000 customers.
Total Business Builders Using the 2011 data (this is probably higher today) 
800,000 X 11% = 88,000 
Total Members on advanced leadership status earning above ave. $50,000/year (88,000 X 3,6% ) = 3168 
Real Success Rate: 3168/800,000 = 0.40%  
This is much lower than the average of 1% success rate of all MLM Businesses.
Get started with the best training program in online business – this is where I learned to earn up to $1,174.09 a day.
Melaleuca Reviews: Compensation Plan
The Above video is one of the motivational videos that Melaleuca has on their Youtube channel. The CEO, VanderSloot, is talking about the bonuses and checks that their marketers are receiving monthly. 
This is basically how the business business builders earn money with Melaleuca Wellness Company.
Commissions From The People You Enrolled: 
These customers are those you personally or directly enrolled either to their website or onsite (at the company).
Introductory Product Commission: You earn 50% of purchase points in the customer's first month.
Personal Customers Commissions: You earn between 7-20% depending on how many active members you have every month. This starts in the second month of being a member.
Active members need to purchase 35 points every month. 
1-7 active members —> you earn 7% commission
7-19 active members —> you earn 14% commission
20+ active members —> you earn 20% commission
Commissions From The People Enrolled By Others: 
You also earn a 7% commission on the people enrolled by your referrals up to the seventh generation.
The number of generations you will be paid depends on your status level in your marketing organization.
Product Advocates – paid on 2 generations
Product advocates II – paid on 3 generations
Product Advocates III – paid on 4 generations 
Directors and above – paid on 7 generations
See the Complete Compensation Plan Of Melaleuca Here. 
A Profitable Home Business Is Simple
If you have the right training, supportive community & mentor, making money online is easy. Click below and get all the three:
Can You Earn Full-Time Income With Melaleuca?
So, let's say your desired full-time income is equivalent to a decent $5,000 a month a business builder that earns 7-20% of your referrals, then you need to generate $25,000 worth of product purchases every single month (considering you'll get the 20% commission).
Unfortunately, you can not make money with Melaleuca without recruiting new customers as you only earn commissions from the purchases of the people you enrolled and the people enrolled by others in your marketing organization.
Let say you recruited 20 people and assume that they are all active members and purchasing at least $100 a month.
So, you earn ($2000 x 20%) = $400 a month.
To earn $5000 per month, you need 250 active members purchasing $100 per month on your first generation (20%).
250X$100 =$25,000.
Recruiting 250 people is honestly not impossible if you have online marketing skills. Unfortunately, there's not enough training that will be provided by the Melaleuca Wellness company in this area, so you need to figure it out yourself. You can get the best online marketing training here and earn unlimited income online. 
However, if you will do it without any online skill, you will have to bother all your friends and family to join you in this business. I bet 250 people will be nearly impossible that's why you need to make sure that all your referrals will actively recruit new customers and business builders.
Remember the Melaleuca Income Statistic?
Only 11% of all customers are business builders. That means if you recruit 100 people, you can only expect 11 people who will become interested in building a business.
So, can you earn a full-time income with Melaleuca Wellness Company?
Yes. If you work very very hard. Probably more than 50 hours a week with effective work effort. 
To mention again – almost 90% (director/director 1 level) earn only a little bit over that $2,100 per year and they even work hard for around 50 hours a week. 
How much work do you think you need to do in order for you to earn $50,000 a year then? 
If you can figure it out, then you can answer yes, you can earn a full-time income. 
Or…
Get started with the best training program in online business – this is where I learned to earn up to $1,174.09 a day. Try it FREE.
Is Melaleuca A Pyramid Scheme Or Scam?
 This is one of the biggest questions that people have when they hear about Melaleuca and it's business practice. In fact, Melaleuca, Inc. has faced some legal issues pertaining this matter. 
So, the good news – after all the allegations and legal issues, Melaleuca Wellness Company is still one of the leading direct selling companies. And whether they like it or not, it is a MLM business. Anyway, they call their business model as a referral marketing. Which is the same. 
The bad news is – there are still a lot of people who get confused about their business practice. I personally like the their point systems since I make online shopping. However, I understand that only 11% customers are building business with Melaleuca as the success rate is very low.
Take a look at this illustration: Unfortunately, this is exactly how Melaleuca and all MLM Businesses Models Look like.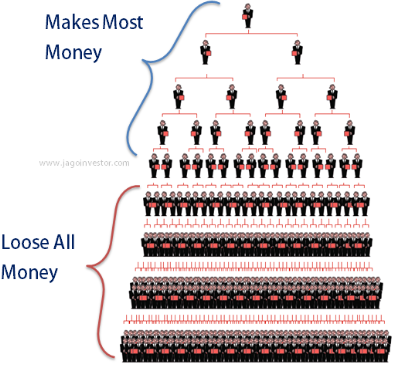 Therefore, the people who join Melaleuca for business purpose or any other MLM business end up focusing on RECRUITING because that's where the money is in the end (which is the main element of a pyramid scheme).
There are, of course, some exceptional people who are lucky enough to be one of the pioneers in the Melaneuca referral marketing business. However, the new members have to chew in the real facts that there are only 1% who earns money in this kind of business. Melaleuca is not exempted of this fact. It even has a lower success rate of only 0.40%. 
How To Spot A Pyramid Scheme?
People get often confused about whether a company is a pyramid scheme or a legit MLM. Unfortunately, it's not easy to distinguish one from the other.
Let's take a look at the short video below explaining about pyramid schemes.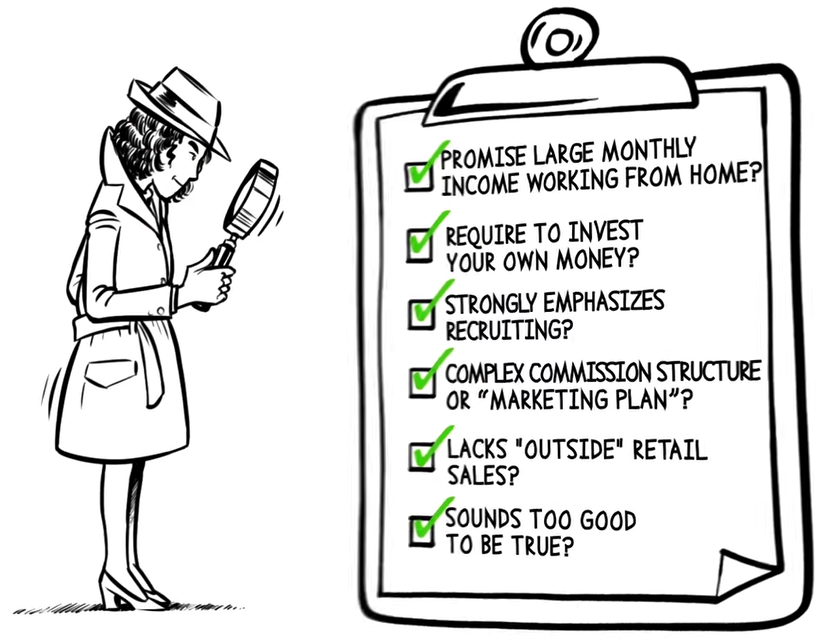 Personal Experience With MLM Businesses
If you've read my bio, you'd probably remember that I tried at least 3 MLM businesses for many years. 
Probably I thought that it was as easy as they presented it to me and maybe because I thought it's a quick fix business. 
I thought – all I had to do was to recruit atleast 2 people – one on my right and one on my left side – and the business would take care of itself. I thought all people will also recruit! I thought it was that passive! And that's far from the reality. 
My last journey with an MLM business was actually the "nicest one" (among the others)- great products and a good company. But no matter how great the products were and how active I was – I didn't make a fortune.
I was recruited by my brother and a lot of my family members became members too. I recruited my friends too – some of them joined and some of them became aloof. That's okay.
But you know what was the BIG problem then?!
As the team became bigger, the communication became more difficult. The further the downlines were, the more difficult it was to be connected.  Which means, the recruits of my recruits' recruits were no longer connected to me. So, once they stopped working, the business died.
Why? it's because it was actually easier (although very difficult) to convince people to join an MLM business than to convince them to stand up and talk about the business with their friends.
Most of the people who join MLM do actually expect their uplines to do all the sales work. Little they realize that this mindset is actually the one killing the team – the idle members.
MLMs are not a quick rich scheme – it's a real business that requires an enormous effort of selling tasks and team building, just to name the few.
BUT honestly, you'd be better off if you build your OWN business. 
Get started with the best training program in online business – this is where I learned to earn up to $1,174.09 a day. Try it FREE.
Only 1% Make Money With MLM Business 
So, why are there only a few people who make real money with MLM? Because it's designed that way – Only people on the top get rewarded and the people at the bottom lose money.
Here's another static to digest on: Of all the people that do make money, the average YEARLY salary is only $2400. That's only $200 a month or around $17 a day. And Melaleuca Wellness Company is not exempted at all – this is proven to be true through their income statistics 2018.
That success rate is even lower than 1%. Melaleuca has a success rate of only 0.40%. Which means more than 99% will never reach a higher level in the ladder. 
Find out how I learned to earn up to $1,174.09 a day with my online business. 
It's FREE to try it for 7 days (No credit card required)
<<My Top Recommended Training>>
Pros And Cons Of Melaleuca
PROS:
Long history of existence 
Consistent Profitable Years
A wide selection of products 
High-quality products
Reputable Owner 
Nice Point system on online partners such BestBuy, Walmart etc. 
 CONS:
Saturated market
Melaleuca has a very low success rate of only 0.40 %. This is much lower among the other MLMs at 1%
MLMs are commonly and mistakenly thought as pyramid schemes and scams
Needs a lot of time and effort in selling and team building
Focus on recruitment 
Here's A Better Way To Make Money
I honestly hope that by now I've talked you out of joining Melaleuca if you intend to become a business builder. Melaleuca and its products are good and if you love their products, I think it's okay to become a customer and earn Loyalty Points on Melaleuca Products – if you do online shopping anyway.
Unfortunately, MLM is such a broken money-making system and extremely hard to succeed with. So, if you want to earn a full time income online or from home, this is definitely the best choice. 
Talking about my experience with at least 3 different MLM businesses over the years, I know it's not an easy business model, especially if you don't like product demonstration tasks, direct selling, business presentation and bothering your families and friends over and over again.
If you're a person like me who prefers a more silent work atmosphere and can work anywhere and anytime, then you should check out Wealthy Affiliate if you still want to have an home-based and online business. 
Wealthy Affiliate is the best place to learn how money-making online works and it has taught me how to earn up to $1174.09 a day. 
It's completely free to try too! If you want to learn more, click below:
A Profitable Home Business Is Simple
If you have the right training, supportive community & mentor, making money online is easy. Click below and get all the three:
"Now he who plants and he who waters are one, but each will receive his own reward according to his own labor."
~1 Corinthians 3:8