Have you ever been thinking of building your own blog but you still hesitate whether or not it will be worth of your time, your energy, your resources or if it will ever make you money at all?
Is It Too Late To Start A Blog?
Nope. Not at all!
When I started blogging in 2009, I thought there were already a lot of bloggers that time and I thought it was too late (I stopped – and that was a big mistake).
Obviously, today you can see that after more than 10 years, a lot of bloggers and online entrepreneurs have grown in different niches.
Needless to say, a lot of people have already seen the power of blogging and how to make money from it.
Some bloggers are earning $100K+ per month and some bloggers are gladly earning $5-10K dollars a month. The coolest thing is, they can work anytime and anywhere and enjoy financial and time freedom.
Today, the internet has become a necessity. In the school, at work, at home, at the church… basically anywhere.
This has opened a lot of earning opportunities online not only for the companies (big or small entities), but also for the ordinary people like housewives, retirees, dropout youths, and a lot of men and women who quitted their day jobs because of stress and unrealistic work demands.
Again, is it too late to start a blog? No! More and more companies are starting to advertise with online influencers on their blogs, social media, and more.
This will definitely continue to grow well in the future.
In the past, it was mainly celebrities that companies advertised with, but now, it is actually shifting to more bloggers and other online influencers – such as Youtubers and Instagrammers.
The World is an extremely huge place and the online world will definitely just going to keep growing. Every blogger can earn a living in completely different ways – everyone has a different story and message to tell. Besides, there are literally TONS of different ways to make money from blogging, and this is expectedly going to keep blooming.
The blogging industry is constantly evolving in nature, and there are always new things to learn. So, don't wait any longer, start your journey today.
Are you ready to earn money from blogging? Get my FREE ultimate guide below!
How Do I Come Up With A Blog Name?
There are some things you need to consider when coming up with an original blog name.
It is always worth taking a moment to think about what your blog name is going to represent before you dive into the world of blogging or any online business. Here are some questions you need to ask beforehand.
What is your blog going to be about?
Who is your target audience?
What is the tone of voice of your blog going be like?
Are you going to build your brand around your blog name?
Think about it but don't worry if you can't come up with a "magic" blog name that you might be dreaming of. Don't overthink because the name of your blog sometimes doesn't mean a lot to your blog. Take for example of Google, Yahoo, eBay, Amazon or Alibaba.
Before these websites became so huge, nobody would ever have a clue what these domain names will likely to represent. So, that means it is always depending on how you build up your business and create engagement to the users. This is no more than like in creating a name for your blog.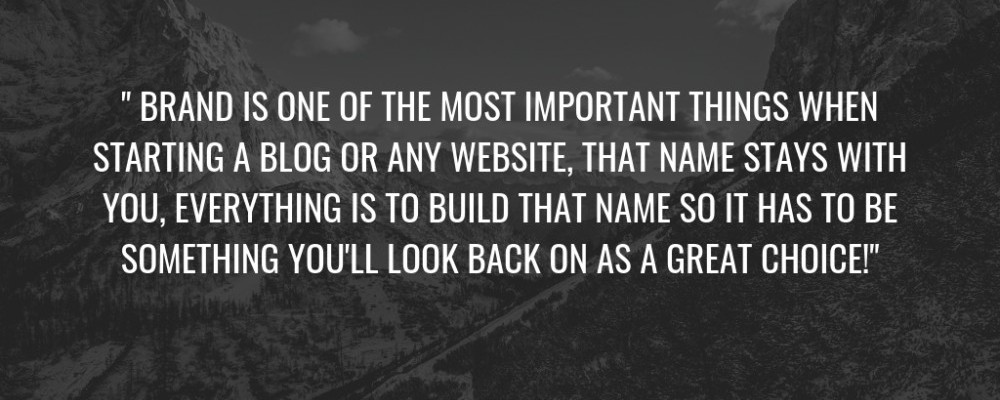 So, how to come up with an awesome blog name? Well, keeping the above in mind, here are the 10 proven methods to create an awesome blog name that I think you'll find useful and helpful.
1. Thesaurus
Grabbing a thesaurus will give a handful of ideas for your blog name. This is a great method for coming up with interesting new words. A thesaurus can be a great goldmine of inspiration, especially if you want to say something in a bit different way.
2. Competitor's blog name
Yes, this is also a good method. If you already have decided what your blog will be going to be about, then try to look at any website that is already writing about your chosen niche – your competitors. This will definitely give you a great idea of what type of name that will work for your own blog.
Of course, you will not be going to copy your competitor's name – just an idea generator method though!
3. Blog Name Generator
DomainWheel (www.domainwheel.com), Nameboy (www.nameboy.com), and Wordoid (www.wordoid.com) are just some of the numerous blog name generators you can use to create a unique blog name for you.
The good thing with these generators is that it will suggest some pretty awesome names while telling whether the .com of the name is available or not. This way it will save you a lot of time by taking the stress out of creating a great name, only to find out it's already taken.
4.  Inspiration From Books
Do you have a favorite book? Do you know the World's greatest authors? I'm sure you do. Then, why not take inspiration from your favorite literature or see how these authors came up with the title of their books from the contents. This is basically the same when choosing a blog name.
5. Different Languages
If you are a multi-lingual like me, then, you have more ideas on how to say or write a single word on different languages. You can use, Google Translate and it works great. I personally love Latin and Greek languages when it comes to religious quotes (Nope, I don't speak these languages).
The bottom line is – choose something short with fewer syllables. This will definitely help to keep your blog name easy to remember and pronounce!
6. Play With Words For A Perfect Blog Name
Have you ever tried to come up with a perfect blog name and just to find out that it's already taken? Well, I think everyone has experienced this. It's very frustrating!
Do you know that there are some sites to help you to come up with a perfect blog name idea that is so close to your original idea? Panabee (www.panabee.com) is a little tool that helps you keep your original idea alive by providing suggestions that are closely linked to your first choices. It uses a wide range of methods such as suffixes and prefixes to name a few.
7. Good Humor
Do you have a good sense of humor? Then use it to create your blog name and make people remember your blog name easily by making them laugh.
Remember that this will not work for a professional blog. However, if your blog's tone/voice is fun, fresh and witty, then there's nothing to lose and is well worth giving a try.
8. Try Alliteration
What is alliteration? alliteration is the conspicuous repetition of identical initial consonant sounds in successive or closely associated syllables within a group of words, even those spelled differently. This is used as a method of linking words for effect, alliteration is also called head rhyme or initial rhyme.
You probably have seen this method many times. For example "Grass Grow Greener", "Future Financial Freedom" or "Blogger Block Busters" and I'm you can come up with much more awesome alliteration ideas than me.
9. Abbreviations
Using abbreviations is also a well-known yet effective method to come up with a blog name. I'm pretty sure to have seen a lot of companies that use their abbreviations for their websites.
Abbreviations make a blog name short and simple, without removing your brand and identity. Example: mgm.com, jbl.com, dhl.com and a lot more.
10. Invent Your Own Word
This method is so cool. Imagine how many invented words that became officially accepted worldwide – like Selfie, blurb, Witticism, Blogger, Vlogger and many more.
Be creative and who knows you will be the next one to create the next newly accepted word. Otherwise, words like shopify, veggiefy, meatfully or beautiness are just some nice examples.
11. Brand Based Name
Try to think about Google, Bing, Yahoo, Apple and many more. If your blog will be like promoting.
Coming up with something new, cool and brandable blog name can be a really powerful way of starting something big and unique!
Get your creativity flowing, take your descriptive words and invent interesting words and metaphoric ideas. Then, turn them into creative blog name ideas.
Mix, match, and compound whole words: Example: YouTube, WordPress, and Facebook.
Blend, mesh, overlap, and truncate words: Example: Lego, Pinterest, and Groupon.
Create a portmanteau by making up new words: Add affixes (prefixes and suffixes) to words to form a basis of new words – Example: Napster and Spotify.
12. Use Your Own Name
Have you tried everything above and still can't come up with your blog name? Then use your own name. This has become a very widely used nowadays. Many bloggers have become highly successful with self-named blogs.
This way you will get attribute to your own name to the stuff what you put forth on the web, while people will recognize you easily as the word spreads.
If you've tried all the above methods and you're still really stuck on what to call your blog, you could always default to your own name. Many bloggers have become hugely successful with self-named blogs.
What Should I Blog About? 
Blogging is merely a free writing passion. Most of the successful blogger love and enjoy writing – they can just simply write and blog about anything.
However, this could be very confusing for new bloggers. When I tried to start a blog in 2009, the major mistake I made is to blog about anything, which means I had no focus at all. I got confused then and I just quit.
Later on, when I met this great community of online entrepreneurs, I learned and realized that in order to see a better and faster result, you need to have a niche.
A niche is simply a "topic" that you really like to talk about. Something you know about or need to know more about. Something you'll never get tired of.
This is very important as you'll be working on this topic all the time.
For example, if you love taking care of your skin, then you could choose a niche within this niche as "skincare" and then why it is important. You can write about the medical and scientifical findings of any matter pertaining to skincare. Then you can find a lot of product reviews to monetize your blog about skincare.
There are literally a lot of things you can write about a particular niche. In fact, one of my topics' hidden free gift inside my FREE Ultimate Guide with email course is a list of the profitable niches you can start within 2019.
Do I Need To Be An Expert or Have A Degree In Any Topic I Choose?
No, not at all. Choosing a topic is very crucial. Some topics are more profitable than others. So, it really depends on your choice.
Some bloggers deliberately choose a known profitable niche even they know a little about it. The truth is, you don't even have to be an expert or have a professional degree in any topic. The fact that you'll be working with a specific topic, you eventually become an expert inside your niche and build your authority.
Again, your choice is always crucial, so take time in choosing a niche for your blog. You don't need to be an expert or a professional one inside your niche.
Get My Ultimate Guide With 100 Profitable Niches Inside the 6-day Email Course
Should My Blog Be Self-Hosted?
It depends upon your budget and your willingness to invest in your blog.
Some people start a blog with nearly no budget so they choose a free website or shared hosting.
Using a free website is honestly not recommend if you're planning to monetize (earn money from) your blog.
Some people opt to start building a website in a sub-domain (free site) and then transfer it to their own domain when your site is all up and running.
A shared Webhosting is often very affordable for as low as $2.95 -$3.95 per month like the shared subscription at Bluehost. Bluehost has the most affordable hosting packages you can find on the web so far. Plus, you'll get a free domain worth $15.
But if you have a plan to build multiple websites one day, then Wealthy Affiliate is much more affordable.
What Are The Common Blogging Expenses? 
Your budget will actually determine your blogging expenses. You can start with FREE, Basic, and full blast (the recommended solution).
So, there's actually no excuse if you really want to start building up a profitable online business, in the form of blogging.
Free Solution:
As mentioned above, you can start blogging completely FREE using a free sub-domain, you can use WordPress, WebPress, Blogger and Wealthy Affiliate.
However, among the others, I highly recommend Wealthy Affiliate as it offers free step-by-step training and premium coaching for 7 days. Within these 7 days, you will be able to set up your blog within 5 minutes and learn how you can monetize (earn money) from it.
Your starter account will never expire and you can keep working with your site inside the platform.
Basic Solution:
Webhosting for 1 website around $2.95 -$3.95 per month (around $7.50 per month after a year) using Bluehost. Free Domain Name for the first year worth $15.
Bluehost is the most affordable Webhosting solution you can find nowadays.
Recommended Solution:
Free web hosting for up to 25 websites for $29.95 per month. Domain name $15 per year. This is my #1 recommendation because it offers the most detailed and easy to follow the step-by-step training, Bootcamp, one-on-one coaching, weekly webinar, and the community support 24/7.
Using this solution, you will be sure that you will be updated with anything and everything under the blogging and online business in general.
You'll learn how to build your business here without using a lot of money on advertising campaigns.
Plus, the technical support is priceless. You will never have to worry about a website crash or hack. In case your site is down, then the technical support will definitely help you – they automatically backup your website.
Other Blogging Expenses:
The following expenses vary according to your own personal budget and choices.
Autoresponder – this will automate your email marketing while building up your email list. I personally use GetResponse as this is the most affordable one with regards to all the features it has to offer. It only cost me $9.45 per month (paid yearly). You can see my comprehensive review of GetResponse and see different features that no other has.
Advertising Expenses: I don't recommend using a paid advertisement at the starting phase. This will be very expensive for you if you don't know how to do it right. Establish your blog and keep providing quality contents then you will generate organic traffic completely free.
And of course, the internet connection and the PC that you use for your business.
Do I Need A Lot Of Readers To Start Making Money From Blogging?
No. You can start earning money by just having a few readers. When you provide quality contents, such as comprehensive product reviews for your readers – they will likely buy it through your recommendation.
I started earning commissions with just 500+ sessions a month and this is by doing product reviews. See here how I earned up to $1,174.09 a day doing comprehensive but simple product reviews (guidelines inside – useful in any kind of product).
What Process Do You Have With New Blog Posts? 
Writing new contents are very important for your followers, subscribers and organic visitors. You need to be consistent with high-quality content.
If you set a goal of one post a day, then make sure you do it. If you set a goal of 2 posts week then, that's what you will do.
Writing a new blog post can be challenging. So, here are some of the tips you can use:
Find at least 12 keywords that you will be working for each month.
Make a regular "working" schedule for your posts.
Spread the 12 posts in the whole month.
If you can make more than 12 posts a month, much better.
If you are expecting a vacation, let's say 2 weeks vacation and you want a complete "work-free" vacation, then make extra 6 posts ahead at set them on automatic posts with a future/scheduled date/time.
Where Does Blog Income Come From?
Basically, all money is coming from the advertisers (any kind of business entity). Advertisers pay the networks, publishers, influencers on social media and even the telecommunication media in order to generate more sales and beat the competition.
Examples:
Google Adsense- the advertiser generates more income by making their product and services visible on Google search engines and all publishers' sites (i.e. online marketers and bloggers) that use the Google Adsense – see display marketing below.

Read more on how to start making money with your blog below.
How Long Does It Take To Start Making Money From Blogging?
Earning money from your blog depends on the methods or ways that you choose.
If you are a complete newbie in this venture, you need to build a solid foundation in building up your business.
The building phase and the learning curves are the most crucial stages. These stages usually take time and patience before you can see results or start making money from your blog. And this is where around 95% of bloggers quit and fail because they expect quick results.
Again, if you need quick money, then, blogging is not the business you're looking for.
The good news is… as soon as your foundation becomes solid, you can build multiple online businesses, earn passive income and help people get the information that they need.
So, how long?
Around 6-24 months according to your efforts. Your consistent effort and determination to achieve success matters. Working 2 hours a day could possibly give a full-time income after 24 months while working 8-16 hours a day can definitely generate results much faster than if you just have 2 hours a day.
Your success depends on your learning skills too. Some people are slow learners and some people are just quite gifted in learning new things really fast.
Nevertheless, working consistently and as long as you don't quit, you will never fail – all you have to do is patiently give yourself time to build a profitable online business with the most comprehensive training platform.
What Are The Ways I Can Start Making Money From Blogging?
What Is Affiliate Marketing? 
Affiliate Marketing, in a nutshell, is simply the method of earning commissions by inserting affiliate links on your blog posts. So, if your visitors click these links and buy the product, you will earn a commission.
How much can you earn with affiliate marketing? Unlimited. Basically, your commission in percentage form is typically between 5-95% commission depending on the product type and affiliate program. For example, Amazon and eBay offer around 8-10% affiliate/associate commission, while Clickbank or JVZoo offers much higher – up to 95% commission.
Get My Ultimate Guide In Affiliate Marketing which comes with 6-Day Email Course
What Is Sponsored Blog?
Sponsored Blog is another great way to monetize your website. This method is simply pitching other websites to write high-quality content on your blog with the purpose of recommending their products and services.
There are different requirements to be qualified or to get sponsored posts and earn money.
However, if you've got started with your online business, you may want to wait until your blog has reasonable traffic. In short, this method is not recommended for a newbie, but once you're ready – this is another great way to earn a big income from medium-large companies.
If you believe you're ready now, then here the sample training on how to get started with a sponsored blog at Wealthy Affiliate:

Sponsored Posts: Writing Content On Your Own Site And Getting Paid
Get the Online Entrepreneur Certification and build a solid foundation in any online business.
What Is Display Marketing?
Display marketing is also known as display advertising, online advertising, banner advertising, and internet advertising. At Google AdWords, displays are also called "picture ads.
Your website will be a channel of these advertisements and these are the different forms of display marketing.
Banners in different sizes and with different functions – static, animated, interactive
Pop-ups, pop-under, layer ads
Skyscrapers, rectangles, leader boards
Content ads and sponsored content
Verbal placements and text links
Rich Media contents such as inter- and superstitials, expandable ads
Motion pictures such as flash videos, streaming video ads, or e-mercials
The main purpose of display marketing is to create awareness of the brand and reach more potential customers for the advertisers.
Read more about display marketing, such as the advantages and disadvantages of it.
Should I Create My Own Product? 
No. Although is always great to have your own product, creating your own product is not recommended if you are a complete newbie in the internet-based business.
In fact, affiliate marketing alone can supply you a lot of advertisers in your niche.
Once you're ready, you can create your own product.
So, when can you say you're ready? When you already learned the ins and outs of online entrepreneurship and your website has reasonable daily traffic, then I would say you're ready.
Why? Then you know when to launch your business, how to create a brand and generate traffic (free and paid).
Here are some of the good reasons why it is good to have your own product:
It Is Easy To Create Your Own Brand
It Creates True Fans, Faster
It Gives the Means to Treat Your Audience Better
It Makes Conversion & ROI Tracking Much Easier
You Can Create An Affiliate Program And Have Other People SendTheir Hard-Earned Traffic To You
It Makes Your Business More Future Proof
It's great to have your own product, but you need to learn how money-making online really works before you dive into it.
Can I Make Money Writing For Others?
Absolutely. Once you've learned who to write high-quality content and you're still not generating income from your blog, then writing for others is a huge market for bloggers.
Your blog is your best reference for the quality of your work in getting writing jobs. So, make sure that your blog is up and running and that you have at least 30-50 high-quality posts in it.
Get my compilation of 130 websites that pay writers from $50-$3,000 per writing task.
Do You Have To Pay Taxes On Blogging Income?
Yes. All income that you generate from your online business is taxable just like any other onsite business. Read my comprehensive guide here and see the most overlooked tax exemptions and deductions for bloggers.
Where Do You Get Photos From Your Blog?
There is literally a lot of websites where you can get royalty-free images. At Wealthy Affiliate, you don't need to research a single image on different image databases, such as pexels, unplash, pixabay etc.
The SiteContent feature of Wealthy Affiliate will show you all the related images from different databases in just one click. This saves me a lot of time when writing contents.
Inside the SiteContent, you will get access for over 1,000,000 free images.
See how it works below.
Why Does A Blogger Need An Email List? 
Your email list is a huge asset for your blog because the people who signed up or subscribed on your list are your targetted audience.
Email List is also known as Sales Funnels.
Generating traffic is a huge task for bloggers. In order to earn money from your blog, you need visitors and your email list is one way to get your visitors back to your website by sending them newsletters or updates.
Make sure that you are updated with the privacy policy as it is very unethical to spam the inbox of your audience.
That being said, having a huge e-mail list is like an ATM machine where you can promote anything to your audience and if they like your recommendation, they will likely buy the product through your affiliate links.
Imagine if you have 10,000 people in your list, and in just one click, you can broadcast a new product recommendation to these people.
Here's an example,
10,000 subscribers and let's say there is only 10 percent who clicks your email. So, that's 1000 people. Then, let's say out of these 10,000 people there is only 10 percent who will buy a product through your link.
So, that 1,000 buyers.
Imagine how much you could be earning every time you send a newsletter with an affiliate link.
Let's say you only earn $1 commission through your affiliate link. So, that's $1,000 ($1 X 1,000) every time you broadcast something.
How often you should send a newsletter is totally up to you, but remember the anti-spamming policy and the authenticity of your offer.
Plus, remember that you supposed to have a valuable offer that provides a solution for your audience.
Get My Ultimate Guide with a 6-day Email Course and get Started In Building A Profitable Online Business.
How Many Blogs/Sites Do I Need To Earn Full-Time Income?
One.
Yes, you only need one blog or site to earn a full-time income.
One of the main reasons that the majority of the new bloggers fail in this business is that lock of focus. They create 5 or even 10 blogs and thinking they need different niches in order to earn more or faster.
The truth is, one website is enough to use all your energy.
Imagine you were told to cut a tree in the forest and you will be rewarded after doing so. The conditions are: you choose your own tree, it doesn't matter how long it could take (just take your time), BUT you're only allowed to hit 5 times with your ax.
So, you went to the forest, you chose a nice tree, came every single day and hit the SAME tree 5 times – Soon enough, that tree will fall and you'll get your reward.
Now, imagine if you went to the forest, you chose a nice tree and realized that there were actually a LOT of nice trees in the forest.
So, you start hitting DIFFERENT trees with the 5 allowed hits every day. Then, you started to get tired of doing the same thing every day because you can't see any result.
This is the same in any business, you only have to choose one niche and focus on it. Work every day and your business will slowly and surely build up over time.
When you hit your success with one niche, then you can start expanding into that niche.
Take for example Apple. They started with computers. Focused and specialized in computers. They expanded to Ipad, iPhone, iPod, and different gadgets such as Apple Watch. And they did one at a time.
Imagine if they started everything all at the same time. Would you think they would have the same success today? I guess not.
Building a brand is the most important thing in any business. Once you succeed in it, then expanding is much easier.
Why Is Affiliate Marketing My Recommended Way To Make-Money From Blogging?
When I started blogging in 2009, Google Adsense was the only way I thought that will surely create passive income.
The big problem is, you need consistent millions of visitors in order to generate ads income from Google. So, this could take a lot of time to generate organic traffic.
Applying affiliate marketing for your blog can give you a great chance to earn money right away. Maybe not full-time income, but you can start seeing results much sooner than just using Google Adsense.
There many reasons why you should use this concept to earn a full-time income from home. And these were my reasons when I seriously started with this business.
I can sell any product I want on the internet
Unlimited earning potential
No face-to-face or direct selling
No face-to-face rejection
No networking
No recruitment
No inventory
No administrative work
Very low investment
I can work entire just with my laptop and internet.
I am my own boss
Scam protected
I can earn Passive Income online!
So, if you are a shy person like me that is not a fan of product demonstration or presentation, public speaking and certainly not a fan of recruiting your families and friends just to earn, then affiliate marketing business is the best business for you.
Start your affiliate marketing business now. Earn while learn and build your passive income online.

I'm looking forward to seeing you and guiding you in this awesome community. See you on the other side.
If you have any thought or more suggestions, please don't hesitate to leave a comment below. Good luck with your journey to financial freedom online. God bless!