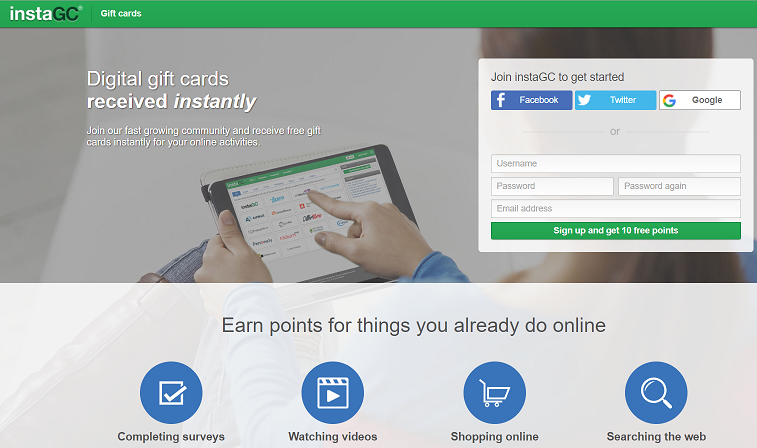 InstaGC is still very popular these days, but If you haven't heard it before, you may wonder if it is a scam or legit program.
InstaGC is one of the paid to click (PTC) site offered online today. So in this review, I will be going to reveal what this is all about and if it's a legitimate way to make money online.
If you want to make some extra money online, doing things online on sites like InstaGC can earn you money quickly and easily.
InstaGC is a site where you can become a member and do online tasks like filling out surveys, searching on the web, playing video games, etc and they pay you for it.
So if you like being online and like to surf the internet, why not get paid while you're doing it?
---
Does InstaGC Worth It? Try This If You Are Completely Broke!
InstaGC Review, Summary:
Product/Trademark Name: InstaGC
Website: www.instagc.com (Sign Up Here)
Owner: All non-Day Online Solutions, LLC
Program Type: Paid To Click (PTC)
Price: FREE
Best For: People who want to earn extra money online
Recommended?: Yes, for pocket pennies. No, for full-time income.
Ratings: 80/100
Verdict: Legit.
If you really want to make a full-time income, check out my #1 recommendation here:
---
Scope Of This Review:
How Do You Earn With InstaGC?
8 Ways To Earn Points With InstaGC.
The Pro's And Con's
Is InstaGC A Scam?
Is There A Bigger Money Maker?
---
HOW DO YOU EARN WITH INSTAGC?
Earning extra money with InstaGC is quick and easy. It is a site where you can become a member and do online tasks like taking online surveys, searching on the web, playing video games, etc, and you will get paid for it.
So if you love being online and enjoying to surf the internet, why not get paid while you're doing it, right?
InstaGC pays you in their currency first which are called Points.
Each point is worth $0.01 or 100 point = $1
There are different types of tasks available on the site and these will allow you to earn points from 1 to 100 points at once depending on the available offers.
Once you earn enough points, you can redeem your points with gift cards, therefore their site named InstraGC (Giftcards). Gift cards can be used through Amazon, Wallmart, Starbucks, Facebook, Online Games, etc. That's pretty easy, right? That's why many people love this site.
They also have a low payout threshold of only $1 which is a hundred points for gift cards. When this is redeemed, you'll instantly get the gift card code emailed to you and you can just use it right away.
InstaGC has so many gift card options, hundreds just for the US alone, and they have more for other countries too.
InstaGC offers payment like Bitcoin, Direct Deposit, eCheck, Ethereum, Litecoin, PayPal, and Visa Prepaid Credit Card BEFORE. However, these have different requirements, thresholds, and take a bit longer than getting instant gift cards – and these have cost a lot of issues. That's why today, you can only use PAYPAL if you want to be paid in cash.
You can also choose to donate your points and help a lot of local and international non-profit organization
Honestly, I'm very impressed to see the number of ways to redeem points because I've seen that many options for a PTC site so far.
---
WAYS TO EARN POINTS WITH INSTAGC
There are 8 ways to earn points with InstaGC and I will detail them out each one:
1. MOBILE APPS
You can earn points here by downloading and installing apps on your mobile or tablet device. These are the 3 providers that you can participate at the time of this review.
2. CALLS
There is only 1 provider that offers for Calls at the moment of the review. This option will earn you points if you make qualified calls with the phone number specific to you.
3. PAID TO CLICK
This is the most popular one and has a lot of opportunities here to earn points. All you have to do is visit and browse websites. Above are the providers that you can participate with.
You will get instructions on what to do for each offer available here for each site you visit.
4. TASKS
You can earn points by simply downloading software, filling out surveys, etc. It can also be from searching on the internet, organizing brand names or labeling things.
Above is the list of the providers that you can choose from.
5. TRIALS
This option will earn you a lot of points for some offers you sign in. Doing this option will require you to give your personal information away and to subscribe to the different website.
If you're okay with all the junk emails, marketing SMS and phone calls – then you can earn a lot of points and will have so much fun with this.
Just be careful with giving your financial information such as bank info and credit cards info. And be aware of the free trials or free gifts that will automatically enroll you to an expensive monthly subscription.
The above providers are the ones who have this option at the moment.
6. VIDEOS
Watching videos and earning points at the same time? How cool is that? Well, honestly, not that much. You can play so many videos from 30 seconds to 60 seconds and then you earn 1 point like for watching 20videos.
Oh, I personally don't want to waste my time with this. Remember 100 points is $1. So, how many videos should you have to watch just to earn $1?
7. POINT BOOSTER CODES
Creating your own booster codes will earn you points for doing almost nothing. The codes will be randomly released on InstaGC's social media pages and you redeem them to earn a few pennies.
InstaGC also allows members to create their own codes to share with others to use them. However, you can't promote member-created codes, you have to share their whole page/website where their codes are.
When you create the codes, you must redeem or use points to be able to do so. The benefit is the traffic generated by the InstaGC itself by promoting your code so you get more referrals and earn points from it.
8. REFERRALS
InstaGC has honestly a good referral system. You can earn 10 points for each referral and you can earn 10% of your referral's earnings, now that's passive income!
If you want to know how to get referrals like taught at Wealthy Affiliate Education, this is a great option and absolutely could be your real way to make the biggest passive income online.
You will get a referral link you can share to tell people about InstaGC with so they can sign up with your link.
---
THE PROS & CONS
Let's take a look at the ups and downs of InstaGC:
PROS:
Easy to navigate on the website
You can earn money instantly
They have a sign-up bonus
Free to join
PayPal as the mode of payout option.
Point Booster Codes to get traffic by doing almost nothing.
CONS:
Very limited earning potential.
Delay for points to credit to your account
Not qualifying for surveys you've already started
Customer service not very good.
---
IS INSTAGC A SCAM?
I can conclude that InstaGC is LEGIT and it's a good place to earn money at.
The earning potential is though very limited and this will not give you the real way to financial freedom online. However, if you just want a couple of hundred bucks per year by consuming several hours a day, then this is a good way to do it.
But for someone like me, InstaGC tasks are not my cup of tea for earning money online because I don't want to earn just pennies with my time.
I'd rather spend time building an online business that I know is the real path to financial freedom.
Well, that's me.
But of course, there are a lot of people who would be satisfied to earn online with some pennies. So, if you love the earning concept with InstaGC – feel free to Sign Up Here.
But if you really want to make a full-time income, start building your profitable business here:
IS THERE A BIGGER MONEY MAKER?
The quick answer is definitely YES and I don't waste my time on anything else but using it wise enough for a bigger option.
You can learn to do exactly the same and build a real online business that can surely create you a full-time passive income instead of trading a lot of your time on making pennies online.
Check out my detailed beginner's blueprint here:

This online business model that I use is very easy to learn, provided that you have all the right business tools and proper training.
Trust me, the sure way to achieve financial freedom online is through the right training and I'm fortunate enough to know where to get the best learning experience with full support from other experts who's been successful at it before me.
See how I earned up to $1,174.09 per day by doing a product review and how you too can do the same – with a step-by-step guide.
This blueprint will lead you to the biggest and greatest adventure to finally learn the real way to make big money online that will change your life forever.
Stop trading your time for pennies, take the milestone and start building a great thing towards earning thousands of dollars a month instead!
Can't you wait to start? then you can sign up free and get the online experience you've been looking for:

I hope this InstaGC Review has enlightened you with any doubt you had. If you have any question or thought, please feel free to leave me a comment below. Good luck to your journey to financial freedom online.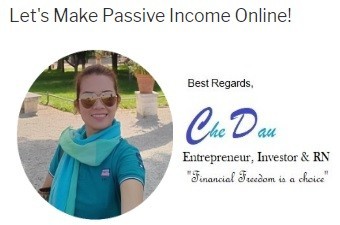 Che's Top Recommended Programs
Wealthy Affiliate University – To learn how making money online really works. Open your FREE account here (No credit card info required)

PipsDominator

– To learn how to leverage Forex Trading and trade like a Pro.
If you are completely broke, try these simple gigs online to earn and save money.