Top 10 Things You Need To Know Before You Start A Blog (Part 1)
Top 10 Things You Need To Know Before You Start A Blog
I wished I knew these things before I started a blog back then. It could have been different today. But that's it, you become wiser looking backward and not the other way around.
So, if you are planning to start a blog, this post is perfect for you. You couldn't be more prepared after this.
Blogging has become very popular today. It's honestly a very lucrative business wherein you can write anything you want and earn money from it by using affiliate marketing, display ads etc.
There are already a lot of people earning millions a year by "just" blogging. While others are earning "just" earning $10,000/month and being happy with it like I do.
When I started blogging back in 2009, I really didn't know what exactly what I was doing that's why I failed many times.
Well, I did everything by myself because I didn't want to invest even a dime back then and these were my reasons why:
After 10 years, I became older, wiser and my mindset is completely different today when it comes to blogging.
I really wished that someone had told me about the things you need to know in order to succeed online so I shouldn't have wasted almost 10 years before reaching online success.
So, my topic today is all about these "Top 11 things you need to know before you start a blog" that could have saved me a decade of online struggle.
Still Can't Figure Out How To Earn Money Online? Get My FREE Guide Below And Start Building Passive Income Online

Let's get started and see if you really are ready to dive in.
1. Social Media Engagements
Personally, I'm a shy person. I really don't like public appearance nor too much publication on social media.
I never thought of a single social media back then. I thought the only thing I would be doing is to simply write contents.
Little I know, social media is a big part of the business. You need to be socialized around the web as this is one of the great ways you can build authority in your niche.
The good thing is, you really don't have to be highly socialized personally. The virtual world is honestly becoming bigger and bigger today so every communication, meeting or conference can be done virtually.
Of course, if you become a huge blogger, you'll be invited to several personal interviews on tv or any event that requires your personal presence like the Super Affiliate Conference all expenses paid by Wealthy Affiliate conducted every single year.
Well, why is social media engagement important?
To earn money with your blog, you need traffic and leads. These leads are your potentials sales generator.
Traffic can be organic, paid or referred. Organic is the free traffic being generated naturally from search engines like Google, Bing or Yahoo. The paid traffic is traffic from your advertising campaigns. And the referred traffic is one from social media engagements like Facebook, Google+, Twitter, Instagram etc.
While the paid traffic can be very expensive, the traffic from search engine optimization (SEO) and social media engagements are totally free. However, both require time, techniques and more effort.
So, you need to be good in creating contents with applied SEO and engaged on social media.
2. Growth Through Consistency
When I was a newbie in this business, I thought I can just write a post during my free time or just when I like it.
The problem is, I did take my blog for granted – that's one of the reasons I failed before.
And this is what I learned…
If you really want to become a full-time blogger, you need to consistently work on your blog.
You need to write contents as contents are your site's assets that can generate you income.
Yes, your contents are your main assets to attract visitors to your blog.
Successful bloggers publish contents once a week, three times a week and some of them even write contents every single day.
The truth is, if you badly need this business, then treat it as a business. You can't expect a full-time income if you only work 2 hours a month or 2 hours a week.
If you can ever earn something by working just 2 hours a week, then imagine what you could possibly earn if you work 20 hours a week.
You need to have a commitment with your own business in order to succeed. That being said, you need to respect your own commitment to your business and be consistent in working with it.
Since your traffic grows on and on for being consistently blogging, your traffic will tremendously drop if you stop posting in a period of time.
For example. I used to blog 3-4 times a week. Then, I gave birth to my youngest daughter and I needed to be away from my blog for just 3 weeks.
My traffic went dramatically down and it really hurt my business. I needed to work consistently again for 2 and a half months to reach the same level of traffic again.
One of my friends at the WA-community advised me and the other bloggers to have a "content reserves" for at least 2 weeks advance. In that way, you are always protected in case of an emergency or sickness.
3. Money Is On The List
If you heard that phrase "Money is on the list" then you probably know a lot about blogging.
Creating your own email list is a huge asset for your online business. Everybody uses this type of marketing – email marketing.
Email marketing is then another learning curve as a blogger. You need to learn the art of it as email marketing converts much more than any other conversion method.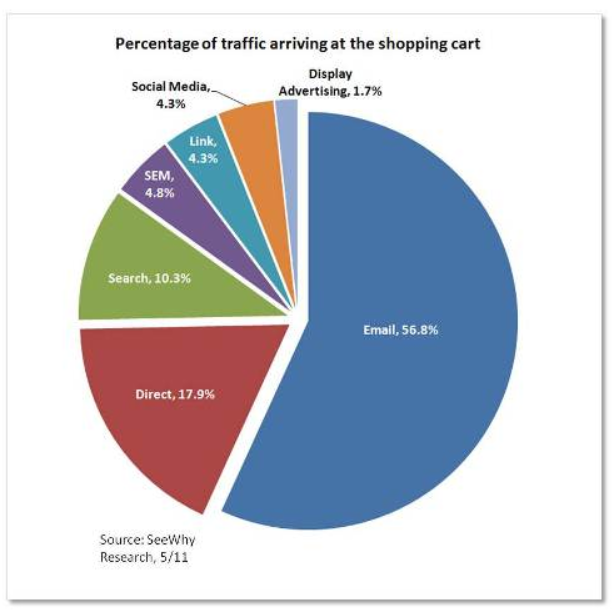 How to create your email list then?
Fortunately, there is a lot of service provider like MailChimp, GetResponse, AWeber etc. that can provide you with free training or resources in order for you to learn how to build and leverage your email list.
You can learn more about email marketing here. 
4. Blogging Isn't Free
As I mentioned earlier, I really didn't want to spend a dime when I started with my blog. It was not a smart mindset and that mentally has cost me almost a decade.
Ultimately, when I met the Wealthy Affiliate University in 2018, everything has changed. I still blamed myself today why I waited to take actions and has limited myself to all the knowledge I could get in exchange for a few bucks.
What are the expenses associated with blogging?
Web-hosting $20 to thousands and even millions a year, depending on the domain name you choose.
Website theme – up to $100 for premium predesigned and up to thousands of dollars if you hire someone to take care of your overall website design. And then you need to pay them monthly if you choose the last one.
Autoresponder – at least $15/month or up to thousands per month like the GetResponse plans.
Training/Coach/Mentor: $30 up to thousands
So you can expect the least expenses for up to $65/month as you fixed cost.
Then there are other expenses you can choose to bear as your website becomes bigger – Such as Writers, Paid advertising, premium plugins, and Other outsourcing tasks.
Obviously, blogging can cost you a lot but it can also earn you a lot of money.
If you just got started, it's recommended to learn everything about SEO as this will generate free traffic first before you consider hiring writers or outsourcing other tasks.
On the other hand, using paid advertising can be a waste of money, as visitors will not convert if your website is almost empty.
However, if you have resources and willing to pay someone to write for you, then you can either hire your own writers or outsource writing and other tasks, for example on Fiverr.com.
Continue Reading Top 10 Things You Need To Know Before You Start A Blog (Part 2) here. 
Final Thoughts…
Today, I love working for my own business from home. This type of business has made many people a huge fortune. While some are earning around $10,000/month and this is what I'm doing and I love it.
See how I earn up to $1,174.09 per day doing product reviews here and see how you too can do it.
There are many reasons why you should use affiliate marketing concept in blogging too to earn a full-time income from home. And these were my reasons when I started with this business.
I can earn money with any product I want on the internet
Unlimited earning potential
No face-to-face or direct selling
No face-to-face rejection
No networking
No recruitment
No inventory
No administrative work
Very low investment
I can work entire just with my laptop and internet.
I am my own boss.
Scam protected
I can earn Passive Income online!
So, if you are a shy person like me that is not a fan of product demonstration or presentation, public speaking and certainly not a fan of recruiting your families and friends just to earn, then this is the best business for you.
Start your affiliate marketing business now. Earn while learn and build your passive income online. 


I'm looking forward to seeing you and guiding you in this awesome community. See you on the inside.
This is the end of my "Top 10 Things You Need To Know Before You Start A Blog (Part 1)". I hope you have learned a little bit more about this business.
You can read on to my Top 10 Things You Need To Know Before You Start A Blog (Part 2) here. 
If you have any thought or more suggestions, please don't hesitate to leave a comment below. Good luck with your journey to financial freedom online. God bless!